Various Gauges/Thicknesses
Novus Gaskets
Novus Gaskets and Novus material is a material like no other. For one thing, it is known for its resistance to acids, oils and fuels, as well as its practical properties. As a result, it is incredibly useful for a number of applications. Furthermore, it has excellent temperature resistance, being able to withstand very low and high temperatures without perishing or disintegrating. For this reason, it makes an excellent choice as a gasket material.
Tailor-Made Gaskets
In addition, Novus gaskets can be manufactured in any shape or size you might require. In fact, we can work to your specifications in terms of the number of holes or slots in the flanges. Plus, tailor-made gaskets are available in thickness ranges of 0.25mm, 0.4mm, 0.5mm, 0.75mm, 1mm, 1.5m, 2mm and 3mm.
The Right Material For You
Furthermore, a number of different forms of Novus materials are available. For the most part, each has its own specific properties to make it even more useful for particular applications. Given these points, no matter whether you need additional temperature resistance, or resistance to a particular type of oil or acid, the specifically designated Novus material ensures a reliable result.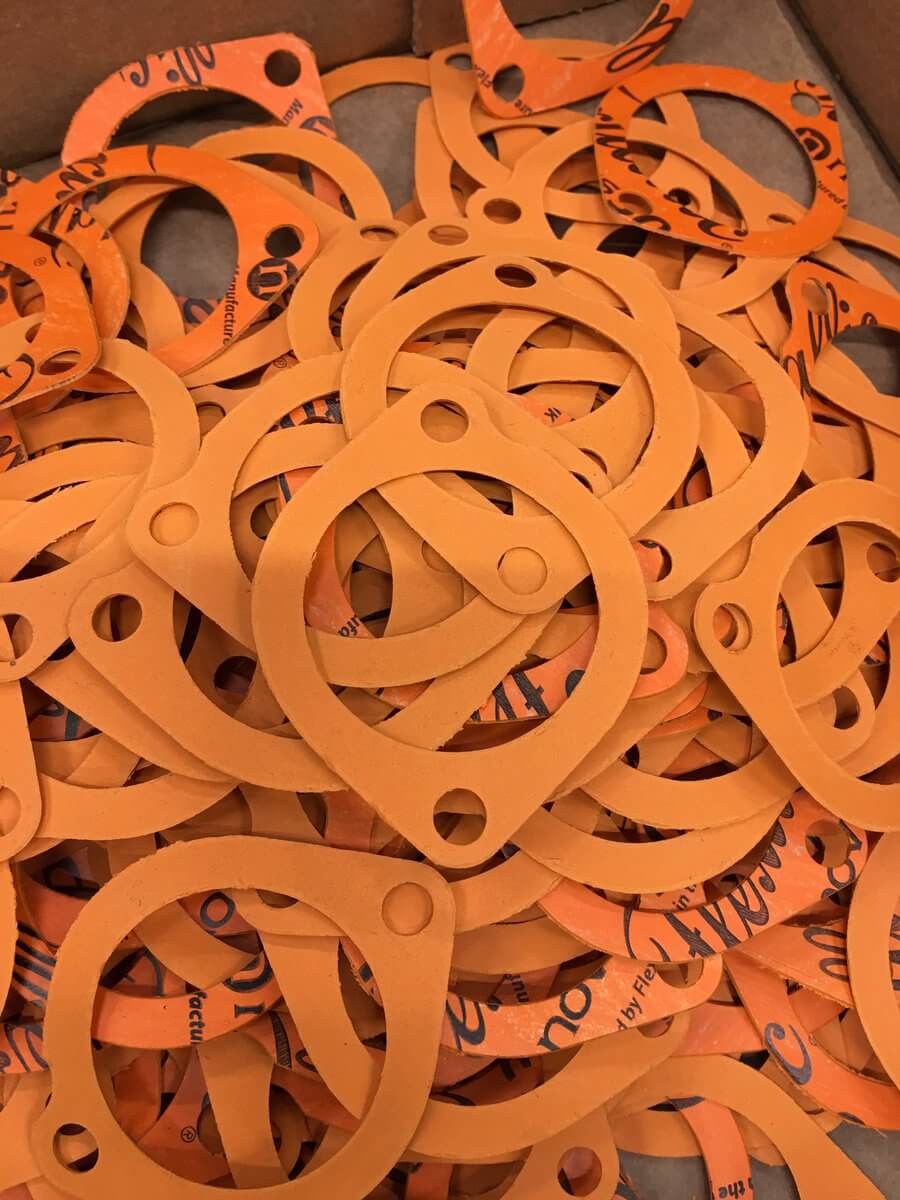 Novus Gaskets at Stephens Gaskets
By all means, if any more information is required on our material or gaskets please get in touch and we will be happy to assist.
High Quality
Furthermore, we pride ourselves in manufacturing high quality, fit-for-purpose products to suit a wide range of industry requirements. In addition to this, Stephens Gaskets has a great deal of experience in producing gaskets, washers, and shims, for customers across the globe.
Worldwide Shipping
What's more, we have one of the largest product ranges available including exhaust gaskets, cylinder head gaskets, Novus gaskets, graphite gaskets, ring shims, precision washers and steel shims, among many more fine industry solutions. Not to mention worldwide shipping and a fast turnaround time.
Strong & Durable
To emphasise, novus is a unique material due to its high resistance to acids, oils and fuels, excellent resistance to high and low temperature extremes, and impressive durability, and strength. As a result of this, Novus is an ideal material from which to manufacture gaskets. Indeed, there are several types of Novus material available, each with its own specific set of properties suited to a range of purposes.
Bespoke Service
In the event that you need a gasket with resistance to extreme heat or extreme cold; or a gasket with a heightened resistance to a particular substance, Novus is ideally suited. To that end, no matter what your request, we can provide bespoke Novus gaskets made especially for your application.
Many Thicknesses Available
Furthermore, as aforementioned, novus gaskets can be produced in any size or shape, produced with your specific requirements in mind. Furthermore, these tailor-made Novus gaskets are available in a range of thicknesses: 0.25mm, 0.4mm, 0.5mm, 0.75mm, 1mm, 1.5mm, 2mm and 3mm. As well as this, we are happy to work with you to create a bespoke gasket specifically for you application.
Contact Our Team
Now that you know a little bit more about Novus gaskets, if you require any more information please contact our knowledgeable and friendly team. While we do our best to give you all the information we can online, nothing beats speaking to one of our gasket experts. 
 Stephens Gaskets – Expert Manufacturers of Gaskets & Shim Washers