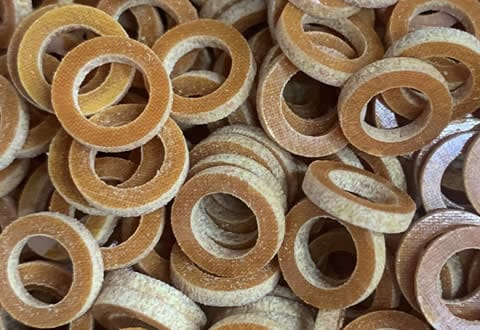 Off-the-Shelf or Custom-Made Washer Solutions from the Shim Washer Manufacturing Specialists
Call 0121 544 5808 Today
Various Gauges/Thicknesses
Various Gauges/Thicknesses
Global Leaders in Shim Solutions
As a trusted provider of shim solutions, we serve OEMs and businesses globally.
At Stephens Gaskets, we are a proud supplier of Tufnol washers that can be custom made to meet the needs of our customers. Moreover, our experienced team is equipped with the latest technology and machinery to manufacture high-quality washers that are built to last.
If you're seeking high-quality shim washers with a quick turnaround, look no further.
Our reputation as the best in the business is well-deserved. With over 70 years of experience delivering top-notch products that meet both your budget and timeline. Our commitment to quality and efficiency is unwavering.
Tufnol washers are manufactured of phenolic laminate, a high-quality material noted for its exceptional electrical insulating capabilities. As a result, it is suitable for a wide range of electrical applications, for instance, electrical switchgear, transformers, motors, and generators.
Tufnol washers are also heat, moisture, and chemical corrosion resistant. Therefore, making them appropriate for usage in a variety of severe situations.
If you are in need of Tufnol washers for your next project, the next steps are simple.
All you need to do is contact us with your specifications and requirements, and we will be happy to provide you with an accurate quote.
Whether you are looking for a standard Tufnol washer or a custom-made solution, we are here to help.
Electrical Insulation:
Tufnol is a good electrical insulator. So, it is perfect for use in electrical applications requiring insulation.
Mechanical Strength:
Tufnol washers have a high mechanical strength and can be in use in high-stress situations.
Chemical Resistance:
It is chemically resistant, including many acids and alkalis. Therefore, making it perfect for usage in severe conditions.
Heat Resistance:
It is heat resistant and so ideal for use in high-temperature applications.
Moisture Resistance:
Tufnol has a low moisture absorption rate, so it is acceptable for usage in wet or humid conditions.
Dimensional Stability:
Tufnol is well-known for its dimensional stability. As a result, it preserves its shape and size even when subjected to varying environmental conditions.
Durability:
Tufnol is a tough substance that can endure wear and tear. Consquently, it excellent for long-term usage.
Customisability:
Tufnol is easily machined and tailored to match the needs of a specific application.
Looking for a Tufnol Washer Supplier?
Stephens Gaskets is a leading supplier of high-quality Tufnol washers. With over 70 years of experience in the industry, we have a deep understanding of the needs of our customers. We commit ourselves to providing top-notch products and services for companies nation wide.
Get in touch with us today to learn more about our Tufnol washers and how we can help you with your next project.