Various Gauges/Thicknesses
Rubber Gaskets
The term rubber gaskets encompasses a huge range of products, each of which has its own specific merits and properties. Put simply, our range of rubber gaskets ensures that we always have the perfect product for your requirements. Therefore, you need look no further than Stephens Gaskets.
Weather Resistant
Take butyl, for example, which is highly weather resistant and impermeable as a material. However, it offers poor resistance to fuel. On the other hand, nitrile is highly resistant to fuel and petroleum based products as well as aromatic hydrocarbons. It also has an operating temperature resistance ranging from as low as -20 degrees celsius, to +70 degrees celsius.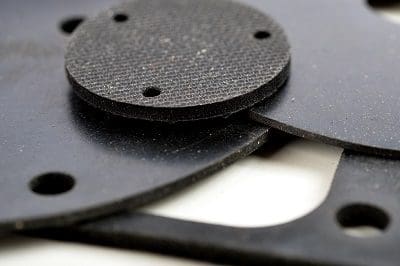 Water Resistant
EPDM rubber gaskets are water resistant and also are not prone to ozone or ageing. This makes them ideal for situations in which the material might be exposed. Neoprene, conversely, whilst not being ideal for applications which might involve ketones or aromatic hydrocarbons, have excellent abrasion and strength properties. They are also highly resistant to salts, acids, oils and weathering. We even offer silicon gaskets, which are fantastically resistant to heat and ideal for use in the food and catering industries. They have superb electrical insulation properties, whilst remaining compressible and non-stick.
Established Since 1947
Put simply, the type which is best suited to your particular industry or need, depends entirely on the properties or characteristics required. Fortunately, though, Stephens Gaskets has been established since 1947. As well, our experience and knowledge is completely unrivalled in the industry. We're proud to offer our products throughout the United Kingdom, and abroad. All from our strategically-placed location in the West Midlands. This enables us to reach as many customers as possible, as quickly as possible.
Rubber Gaskets at Stephens Gaskets
We have 70 years of experience as gasket manufacturers. We produce from a whole range of materials for a vast variety of applications, including the production of rubber gaskets. Stephen Gaskets is a leading supplier and manufacturer in the UK.
Exceptional Tensile Strength
Rubber is an excellent soft gasket material that is used for various applications. It offers great resistance in extreme temperatures due to its exceptional tensile strength, tear strength and compression. In addition to temperature resistance, rubber offers other advantages, such as insulation from electricity. As well as the ability to repel water. Because of these advantages, it is a suitable material for many industries. This is why we are proud to be rubber gasket manufacturers.
Worldwide Shipping
Not only are we suppliers to the UK, we also supply to our customers worldwide. We are confident we can provide the service you are looking for, in terms of both quality and pricing.
Contact Our Team Today
Our experienced team is always here to help, so why not give us a call or fill in our contact form to see what we can do for you? With so much choice available, it's easy to get overwhelmed. However, we're here to make that experience a whole lot easier.
Stephens Gaskets – Expert Manufacturers of Gaskets & Shim Washers