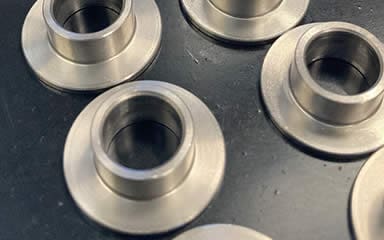 Various Gauges/Thicknesses
Various Gauges/Thicknesses
Shoulder washers are a crucial component in various applications, featuring a small raised portion (shoulder) at their centre.
These versatile washers offer a multitude of benefits, making them essential in countless industries and applications.
Why Choose Shoulder Washers?
Shoulder washers are designed with precision engineering to provide unmatched stability and strength to your joints and connections. Their unique design offers the following advantages:
1. Improved Stability
Shoulder washers are engineered to enhance the stability and robustness of your connections. The raised shoulder evenly distributes the load, reducing the risk of damage or wear over time.
2. Increased Bearing Surface
The raised shoulder provides a larger bearing surface area, preventing screws or bolts from pulling through the material they fasten. This increased bearing surface ensures a secure and lasting connection.
3. Protection from Wear and Tear
Shoulder washers act as a protective barrier between the fastener and the material being secured, preventing friction and wear. This safeguard ensures your materials remain intact and free from damage.
4. Easy Alignment
Simplify your fastening process with shoulder washers. They facilitate precise alignment of fasteners, reducing the risk of misalignment and damage to your connections.
Common Uses of Shoulder Washers
Shoulder washers find application in diverse industries, offering invaluable benefits in:
1. Electronics
Ensure stable connections in electronic devices by using shoulder washers between circuit boards and securing screws or bolts.
2. Automotive Sector
Improve stability and strength in various automotive components by incorporating shoulder washers.
3. Construction Projects
Enhance stability and security in construction projects by utilising shoulder washers for connecting different building materials.
4. Machinery
Shoulder washers are a trusted choice in machinery, ensuring even load distribution and safeguarding equipment against wear and tear.
Why Choose Stephens Gaskets?
At Stephens Gaskets, we are the leading shoulder washer supplier and manufacturers with a legacy dating back to 1947. We take pride in offering:
Strong & Durable Solutions
Our stainless steel shoulder washers are renowned for their strength and stability. They are engineered to withstand corrosion and provide long-lasting performance, making them ideal for various applications, even outdoors.
Wide Range of Materials
We offer a diverse range of shoulder washers in different materials, including stainless steel, steel, brass, and more. This ensures that we can meet your specific requirements for any project.
Bespoke Solutions
Need a customised shoulder washer? Our experienced team can manufacture shoulder washers tailored to your exact specifications, ensuring a perfect fit for your application.
Why Opt for Stephens Gaskets for Your Gasket and Washer Needs?
With a history spanning back to 1947, Stephens Gaskets boasts a long-standing heritage in the manufacture of washers and gaskets. Our steadfast commitment to precision engineering and the use of high-quality shim materials guarantees that our products consistently meet the stringent standards of the industry.
Whether your requirements involve custom-made shoulder washers or an assortment of gaskets tailored for versatile applications, we have your needs thoroughly covered.
Contact us 0121 544 5808 today for further information or to obtain your complimentary quotation.
Call Us Today
Are you looking for premium-quality shoulder washers that guarantee stability and longevity? We supply a wide range of shoulder washers, including bespoke options. Call us today at 0121 544 5808 to discuss your requirements or request an instant quote.
FAQs About Machined Washers
What materials are shoulder washers available in?
Shoulder washers are available in a variety of materials to suit different applications. Common materials include stainless steel, steel, brass, aluminium, and plastic. The choice of material depends on factors such as strength requirements, corrosion resistance, and environmental conditions.
What is the purpose of the raised shoulder in a shoulder washer?
The raised shoulder in a shoulder washer serves multiple purposes. It helps distribute loads evenly, improving stability and reducing the risk of damage or wear. Additionally, the shoulder provides a larger bearing surface area, preventing screws or bolts from pulling through the material they fasten.
Can I get custom-designed shoulder washers for my specific application?
Yes, many shoulder washer manufacturers, including Stephens Gaskets, offer bespoke manufacturing services. You can provide detailed specifications, including dimensions and material requirements, to have shoulder washers custom-designed to meet your specific needs.
What industries commonly use shoulder washers?
Shoulder washers find applications in various industries, including electronics, automotive, construction, and machinery. They are used wherever stability, load distribution, and protection from wear and tear are essential in connections and joints.
How can I determine the right size and type of shoulder washer for my project?
Determining the correct size and type of shoulder washer depends on factors like the material you're fastening, load requirements, and environmental conditions. It's advisable to consult with a shoulder washer manufacturer or supplier who can provide expert guidance and help you select the most suitable option for your specific application.
These FAQs and answers should help customers understand the key aspects of shoulder washers and the considerations when choosing a manufacturer.