Steel Shim Washer Manufacturing Experts & Bespoke Steel Shim Washer Specialists
Call 0121 544 5808 Today
Various Gauges/Thicknesses
Steel Shim Washers
Stephens Gaskets are proud to offer a service that goes the extra mile for our customers. Whether it's shims and light pressings or any of our other products, our team of shim washer specialists are on hand to offer their expertise. We understand the importance of quality products.
With over five decades in the industry, Stephens Gaskets has accumulated an in-depth amount of experience and knowledge in the shims, washers and gaskets industry. We are proud to be fully trained experts in the trade.
Shim Washer Experts
Steel Shim washers are generally used to be placed between two different components in order to fill a gap or absorb tolerances. Most shim washers are made of steel, which is particularly good at absorbing vibrations and reducing friction. This helps to preserve the faces of mating components.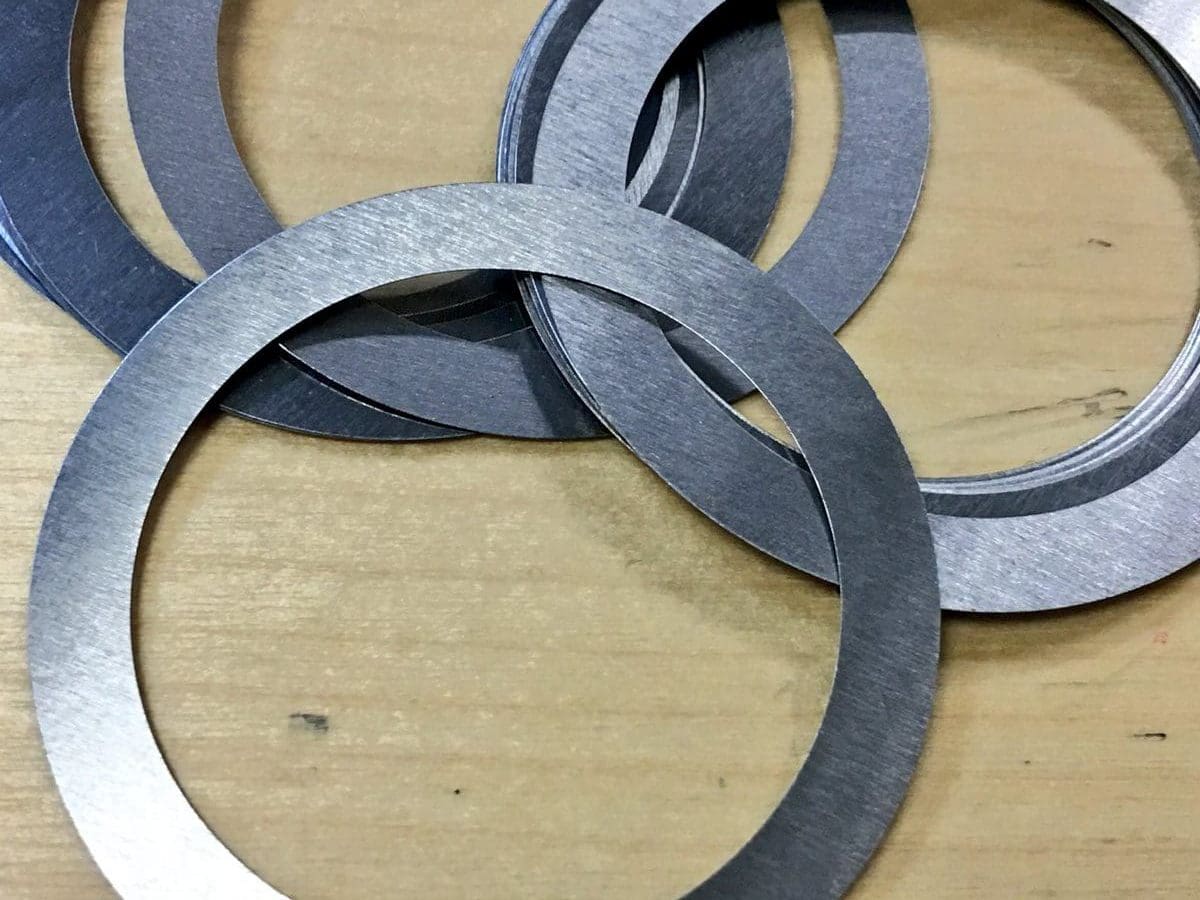 Reduce Costs
Steel Shim washers are particularly useful in bringing down costs as they reduce the need for regular maintenance and repairs to equipment. This is due to the shim acting as a barrier between the two components, enabling it to take most of the force of friction. As a result, saving on the wear and tear of the main components. As shim washers are generally very inexpensive, this makes it a particularly cost-effective way to reduce maintenance costs.
Lightweight & Waterproof
Steel is a useful material for shim washers due to its unique properties. It is both lightweight and waterproof as well as being relatively inexpensive.
Shims can be finished in a number of different ways according to their environmental uses, for example exposure to chemicals or corrosives. The finishes available include zinc plating, oxide coating or anodising. We are able to provide finishes to suit all requirements.
Using and replacing shims is far more cost-effective than either performing regular maintenance and repairs on components or ensuring a perfect fit of components during the manufacturing process. This makes them very popular for a number of different applications.p>
High Manufacturing Standards
Our metal shim washers have a consistent high standard of thickness, flatness and accurate dimensions. They can also be made in over 150 different stainless steel shim grades. However, if you require a specific size of steel shim washer, our bespoke service is available to manufacture steel shims to suit the more complex requirements you may have. Our steel shim washers are made with extra chromium. This creates a chromium oxide protection, helping to prevent corrosion across the internal structure of the shim.
Steel Shim Washers at Stephens Gaskets
Our shims are used all over the world. We have UK based headquarters that are strategically placed in the West Midlands, ensuring efficient service wherever you might be based. We can deliver your shims rolled or flat packed. As well, we aim to process your order and deliver your product as quickly as possible.
If you still require further information on our products, or would like to talk through your requirements with our specialist customer service team, please do call us! Alternatively, you can fill out the contact form on our website, and we will be more than happy to help in any way we can.