Brass Shim Washer Manufacturing Experts & Bespoke Brass Shim Washer Specialists
Various Gauges/Thicknesses
Brass Shim Washers
At Stephens Gaskets we are extremely proud to be brass shim washer specialists and leading shim washers manufacturers. We are proud to produce products for a wide range of industries and applications.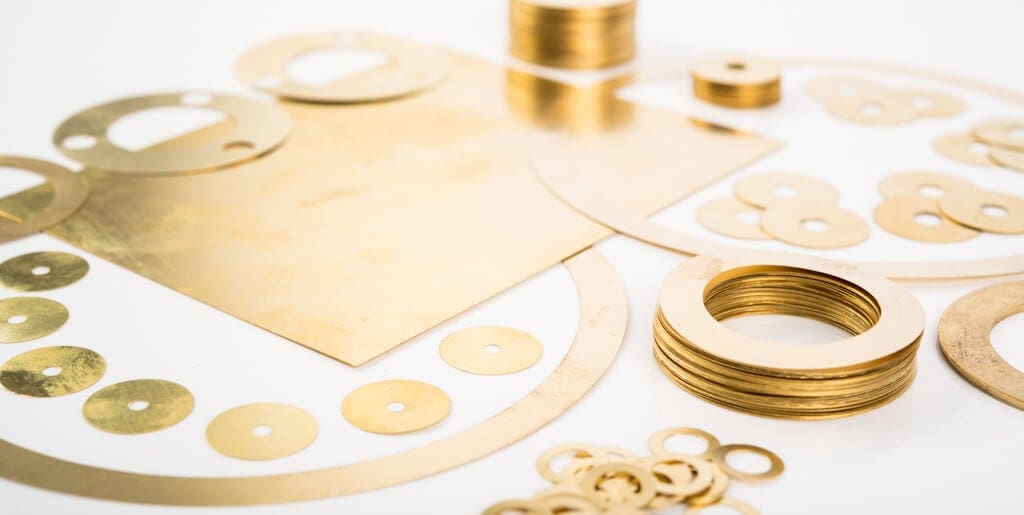 sWhat is a Brass Shim Washer?
A shim washer can be made from many materials, including aluminium, plastic brass, copper, cork, neoprene, rubber and stainless steel – to name but a few. Metal shim washers are typically doughnut-shaped. The diameter around the outside is usually twice the size of the diameter of the inside.
Its most common usage is to distribute the load of a screw or a nut. This therefore ensures the fastener will not break when it has to bear weight. Some other common uses for shim washers are as a spacer or wear pad.
Benefits of a Brass Washer
Brass is popular in applications involving friction reduction due to its strength and durability. Brass shims have excellent resistance to corrosion by water. In addition, they exhibit corrosion resistance in environments where fuel oil, gasoline, kerosene and alcohol are present.
Brass demonstrates excellent electrical conductivity. It is therefore extremely popular in the electric industry and appliance industry.
Unique and Useful Properties
Brass is a metal alloy with a number of unique and useful properties. Although all brass is made from zinc and copper, the exact proportions of ingredients often vary. This is so they are able to meet specific requirements in terms of the properties of the brass.
Does Not Spark
Brass is particularly useful in applications consisting of low levels of friction. For example, brass is often used in gears, bearings or plumbing and electrical appliances.
Although many metals spark, brass does not. Consequently, it is often used in fittings and applications in which sparks need to be avoided. For example, around chemicals and explosive gases.
Brass is also malleable and has superb acoustic properties, making it useful for a number of different applications.
Recyclable
In the manufacture of shim washers, brass has been particularly popular due to its unique properties as listed above. Brass is recyclable, which adds to its expendability and low-cost nature. These are two of the factors which make shim washers particularly useful.
It is generally far more expensive to manufacture components to have a perfect fit. Therefore, many mass produced appliances use shim washers in order to pad out gaps between components. It is done in a way which will reduce cost for the consumer and manufacturer.
Useful In Many Industries
Brass Shim Washers not only save money, but they're also specifically designed to act as a buffer for friction and other forces. In turn, this makes them a very popular item in many different industries and across a number of different applications.
Established in 1947
We can manufacture to any diameter or size to suit your need. A number of different thicknesses are also available. If you have a specific, bespoke requirement for brass shim washers or brass turned parts, please contact us to see what we could do for you. We have been established since 1947.
Our expert customer services team are always on hand to give you any help you might need.
For more information on brass turned parts and shim washers, please feel free to contact us through the form on our website, or by giving us a call.