Cylinder Head Gaskets Manufacturing Experts & Bespoke Cylinder Head Gaskets Specialists
Call 0121 544 5808 Today
Various Gauges/Thicknesses
Cylinder Head Gaskets
Cylinder head gaskets are a particular type of gasket. Specifically, they are designed to sit between the cylinder head and engine block. Due to their design, they feature regularly in all types of internal combustion engines. However, most commonly in road vehicles such as cars and trucks.
Like any type of gasket, the purpose of it is to seal the gap between two surfaces. For example, the cylinder head and the engine block. This, therefore, ensures there is no leakage of either liquids or gases into or out of the join. Such as the leakage of exhaust fumes out of the exhaust system.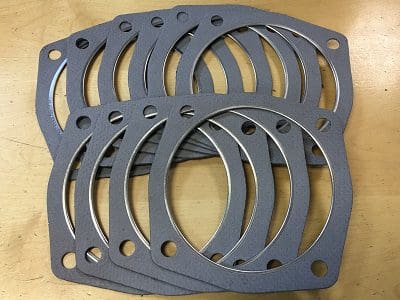 No Leaking Fumes
The consequences of leakage in exhaust systems can be catastrophic. Firstly, there's the environmental impact of untreated exhaust fumes leaking into the atmosphere before passing through a catalytic converter. Additionally, the potential for fumes to leak into the passenger cabin can be fatal, with carbon monoxide poisoning a real possibility. For that reason, a well-made gasket is absolutely vital in any internal combustion engine.
The History
Over the years, head gaskets have been made from a number of different materials. Historically, graphite and asbestos was a common composite material. However, this came to an end due to environmental and health concerns over asbestos. As well, due to the fact that the materials were far more prone to head gasket blow-outs than more modern materials.
Nowadays, MLS (multiple layered steel) or copper gaskets are more popular. The reason being, copper gaskets allow the cylinder to bite into the gasket, improving the seal and the life of the gasket itself.
Inexpensive Maintenance
Gaskets are not expensive to buy. However, the cost of replacing a blown gasket and potentially repairing the engine block following a blowout can be extreme. Therefore, regular maintenance and checks are highly recommended.
Having a head gasket blowout on any type of internal combustion engine can be catastrophic and very expensive to fix. Maintenance, however, is relatively inexpensive and can ensure ongoing safety.
Call us Today
We provide cylinder head gaskets in a number of different shapes and sizes, so please do contact us today for some more information on how we can help you.
Stephens Gaskets are experts in the manufacturing of gaskets and shim washers.