Various Gauges/Thicknesses
Klinger Gaskets
The Klinger company pioneered the development of compressed fibre gaskets, otherwise known as Klinger gaskets. Since then, the name has been synonymous with the product. Much the same as the brand names of Hoover, Aspirin and Sellotape have become generic terms for their products. To many, though, they are simply known as compressed fibre gaskets.
Waterproof
Compressed fibre gaskets are manufactured using a carefully constructed blend of both rubber fibres and aramid glass. This gives them a malleable consistency, whilst remaining waterproof and resistant to a number of materials. It is this wide range of impressive properties which makes Klinger gaskets the material of choice in a number of industries and applications. Including the marine industry, and in major international oil pipelines.
Resistant to Temperatures Above 400 Degrees Celsius
Not only is compressed fibre waterproof and highly malleable, but it also offers load bearing properties which are simply unrivalled elsewhere. It's resistant to air, water and a number of common chemicals. Additionally, it is resistant to temperatures well in excess of 400 degrees celsius, fire resistant and a wholly non-conductive material. Put simply, compressed fibre Klinger gaskets are almost indestructible.
Klinger Gaskets at Stephens Gaskets
Compressed fibre gaskets aren't the only things which are at the top of their game, though. Stephens Gaskets was established in 1947, and we have been the leading provider of washers and gaskets ever since. We have an unrivalled quality in customer service and experience.
ISO 9001 : 2000 Accredited
We are extremely proud to be ISO 9001 : 2000 accredited. Our products are bought by customers all over the United Kingdom and, indeed, from right across the world. It's not just our customers who are highly valued, we demand that every employee's contribution is highly valued. As a result, we operate a positive working environment and an efficient and professional experience which extends to you, the end customer.
Call Us Today
Why not call us today to discuss your requirements and see what we can do for you. Or, fill in the form on our contact page and we'll get in touch.
Stephens Gaskets – Expert Manufacturers of Gaskets & Shim Washers
Features:
High Quality Products
Waterproof
Supply all over the UK
Non-conductive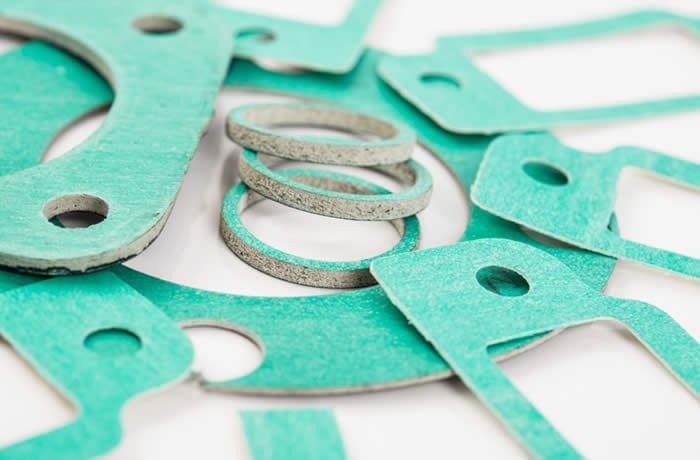 Klinger gaskets are one of the many different types of mechanical components that we can manufacture and supply here at Stephens Gaskets. Many people opt for a Klinger gasket due to the extensive list of benefits it can provide to applications and industries.
Klinger gaskets, which are sometimes known as compressed fibre gaskets, are manufactured using a precise blend of rubber fibres and aramid glass. The mixture of these two materials creates a malleable consistency that remains waterproof and resistance to a selection of different materials. Gaskets made from Klinger are resistant to air, water, as well as common chemicals. In addition to this, the gaskets can withstand temperatures well in excess of 400 degrees Celsius, they are also fire resistant and wholly non-conductive. These desirable properties make the gaskets popular in many different applications such as the marine industry and in large international oil pipelines.
As one of the country's leading suppliers of klinger gasket materials, here at Stephens Gaskets we are proud to supply Klinger gaskets in both small and large batches of product. We strive to go above and beyond for our customers and will always aim to provide a fast turnaround and competitive prices throughout all of our services. With Stephens Gaskets, you'll be guaranteed a high quality gasket that is guaranteed not to let you down.