Various Gauges/Thicknesses
Flexoid Gasket Paper
As a leading supplier of gasket material, here at Stephens Gaskets, we are proud to supply materials that are suitable for a wide range of applications. One of our most popular materials is flexoid gasket paper.
What are Flexoid Gaskets Made From?
Flexoid gaskets are made from a plasticised material that has been infused with gelatine. This creates a cellulose-based compound that is highly resistant to many different liquid substances. Arguably, its best and most useful property is its resistance against petrol, oil, water and other fuels. As it can seal against these liquids, it is an extremely cost-effective material and, therefore, is widely used in the automotive sector.
Although our chlorine-free flexoid gasket paper is ideal for the automotive industry. Due to its low heat and chemical resistance, the material is not often used in any other industrial sectors. It is also not recommended for contact with alkalis, acids and steam. There are other alternatives that can be used for these types of applications, and they are normally non-asbestos materials.
What are the Uses of Flexoid Gaskets?
The material's highly desirable resistance properties make flexoid incredibly adaptable when it comes to manufacturing gaskets made from it. Flexoid gaskets can be created for use in a wide scope of hardwearing projects including fuel pumps, front plates, oil pumps, oil filters, engine side covers, timing covers, thermostats, water pumps, gearboxes, clutches, axle covers, axle shafts. As well as other applications relating to the automotive industry.
Leading British, European and US automotive manufacturers regularly use flexoid gasket paper. This is because the material is easy and convenient to manufacture with. With this in mind, it is commonly used to create replacement vehicle components that have been discontinued and are no longer able to be purchased from a retailer. Our team at Stephens Gaskets can supply it in a wide variety of sizes and thicknesses to ensure you purchase it in the most convenient form for your requirements.
How to order
To discuss your particular needs and Flexoid gasket requirements, why not give us a call? You can contact us on 0121 544 5808 or via the contact form on this website. We'd be more than happy to help in any way we can and look forward to welcoming you as the newest customer of Stephens Gaskets.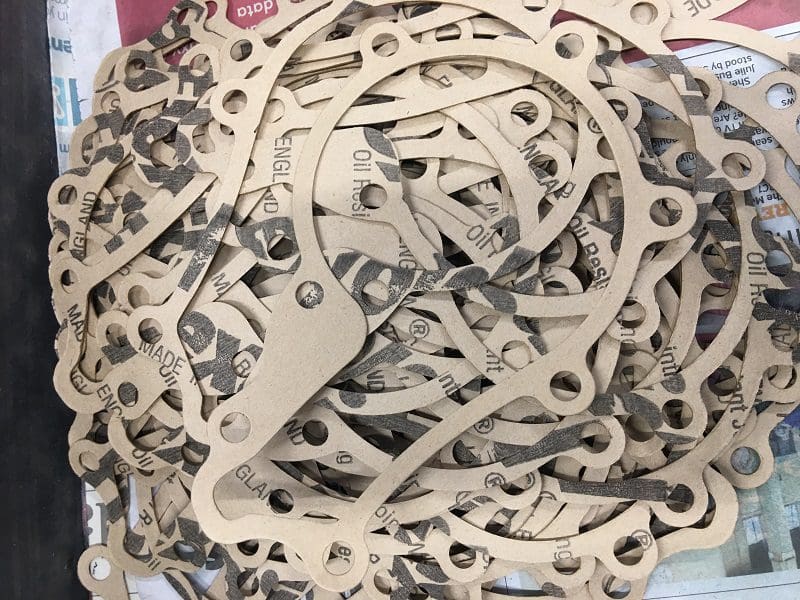 Order From Stephens Gaskets Today
If you choose to buy flexoid gasket material from Stephens Gaskets, you'll be offered it in either flexoid gasket sheet form or roll form. We also cover material thicknesses ranging from 0.15mm to 2.0mm. If you are looking for flexoid gaskets to buy, using our own on-site manufacturing suite, we can create your own bespoke high quality flexoid gaskets made to your exact requirements.
Here at Stephens Gaskets, we pride ourselves on the quality and value that we aim to deliver every time. Our experience and expertise is reflected across all of our products and services we offer. As a result, you can be sure that we will work hard to meet all of our customer's requirements – and with a fast turnaround time too. With over four decades of experience under our belts, we've established a highly in-depth knowledge and understanding of precision machined components and their materials. This knowledge allows us to offer only the most reliable resources and manufacturing services. Our long-standing relationships with suppliers worldwide also mean that we have access to the finest quality materials that we are able to supply to our customers at the most competitive prices.
Stephens Gaskets – Expert Manufacturers of Gaskets & Shim Washers.