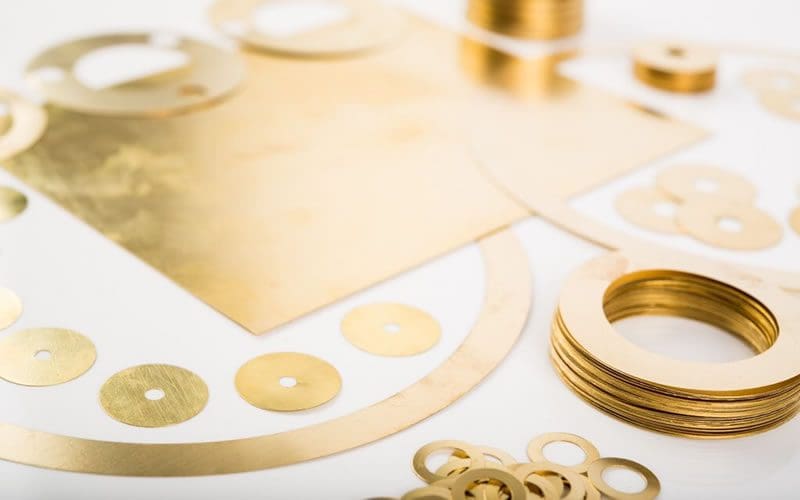 Various Gauges/Thicknesses
Various Gauges/Thicknesses
Stephens Gaskets is one of the country's leading precision component manufacturers and raw material suppliers. We specialise in the manufacturing of shims, washers, and gaskets, and have developed an unbeatable reputation for quality products. What helps us remain so reputable is the raw materials that we work with. From stainless steel through to brass raw material, we are proud to manufacture precision components with only the finest of resources.
Alongside supplying precision machined components, we also supply raw materials to other businesses and manufacturers looking to produce their own components or parts. Available in different forms including sheeting and strip material, we can support a wealth of different projects. One of our most popular raw materials we supply is brass. 
The Highest Quality
As experienced production specialists, we strive to supply raw materials that we ourselves wouldn't hesitate to use. Having worked in the manufacturing industry for over four decades, we have established strong relationships with some of the best suppliers in the world. As a result, we have an inventory of high quality brass raw material on offer for our customers. Expertly designed for the use of machining, our raw brass is reliable, durable, and guaranteed to offer a high quality finish for years to come.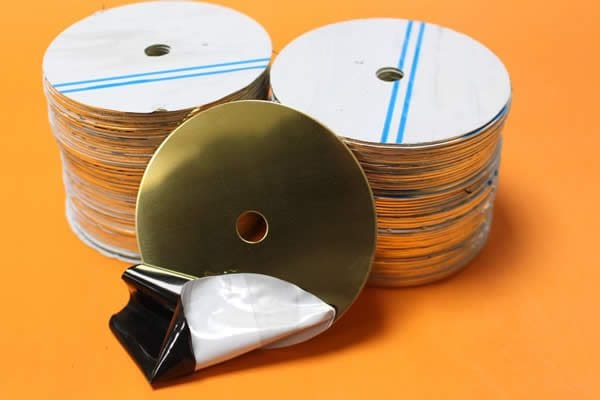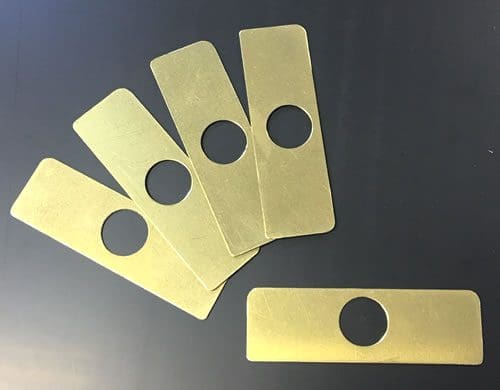 Brass Foils
When it comes to brass foils, you can trust Stephens Gaskets to provide you with what you need. We offer as much flexibility as possible with our brass strip foil for sale, and we'll tailor our materials to your exact requirements.
Our precision strip brass material is cold rolled into thin strips and can be supplied in a multitude of grades. As experienced raw material suppliers, we understand the importance of accuracy, and with our tools, we can meet even the most demanding specifications with ease.
We also have the ability to provide you with slit coil in your desired material (such as brass). Depending on the thickness width combination, we can slit from between 1.50mm wide to 610mm wide.
With our fully equipped suite of precision machining equipment, we can produce different edges based on the finish you need. From deburred or rounded through to chamfered designs, we can deliver you exactly what you have specified or have shown in drawings. 
Why Brass Raw Material?
When it comes to selecting raw materials, performance and cost are naturally two of the most important points that need to be considered. For components, brass is one of the best raw materials to go for. It's superior machinability means it can deliver on productivity and offer a lower per-part cost compared to other materials. In addition, higher machining speeds means that the overall production costs generally run lower.
Tolerances hold well and the surface finish that can be achieved with brass is excellent. Additionally, many brass grades have a natural resistance to corrosion, which can eliminate the need for further finishing or protective surface coating enhancements.
Contact Us Today
If you would like to find out more about brass or other raw material we supply, then please call 0121 544 5808 to speak to a member of our helpful and friendly team.
Brass Shim Stock Thickness Range
1m lengths available at 300mm wide in thicknesses from 0.050mm to 1.000
5m lengths available at 150mm wide in thicknesses from 0.010mm to 0.200mm 
150mm x 5m
0.010mm
0.020mm
0.025mm
0.030mm
0.040mm
0.050mm
0.075mm
0.100mm
0.127mm
0.150mm
0.200mm
0.200mm
300mm x 1m
0.050mm
0.100mm
0.200mm
0.300mm
0.400mm
0.500mm
0.600mm
0.700mm
0.800mm
0.900mm
1.000mm
300mm x 5m
0.150mm
Brass Foil & Sheet Grades We Supply:
CuZn37: (EN: CuZn37 ; UNS: C27200 ; EN: CW 508L ; BS: CZ 108 ; ISO: CuZn37)
This alloy has excellent machinability, good spring properties, as well as, an electrical conductivity of approx. 26 % IACS.
CuZn30: (EN: CuZn30 ; UNS: C26000 ; EN: CW 505L ; BS: CZ 106 ; ISO: CuZn30)
Same characteristics and applications as CuZn15; but has slightly different colour.
Brass Sheet (Hard)
CuZn37 R410
0,05x300x650
600×2000
1 / 1,5 / 2 / 3
Brass Sheet (hh)
CuZn37 R350
300 x 2000
0,1 /
600 x 2000
0,2 / 0,3 / 0.4 / 0,5 /
0,6 / 0,7 / 0,8 / 1 /
1,2 / 1,5 / 2,5 / 2 /
3 / 4 / 5 / 6 / 10
1000 x 2000
0,5 / 0,7 / 0,8 / 1 /
1,5 / 2 / 2,5 / 3 /
4 / 5 / 6 / 8 / 10
1500 x 3000
3 / 4 / 5 / 6
1250 x 2500
1 / 1,5 / 2 / 3
Brass Sheet (Soft)
CuZn37 R300
600 x 2000
0,5 / 0,7 / 0,8 / 1
1,2 / 1,5 / 2 / 2,5
1000×2000
1 / 1,5 / 2
Brass Plate – CuZn39Pb2
1020×3020
12 / 15 / 20 / 25 / 30 / 35 / 40 / 45
50 / 55 / 60 / 70
1020×2020
80 / 90 / 100
Brass Plate Thickness
120mm / 130mm / 150mm
Raw Material Brass Sheet Weights:
Size / Weight Per Sheet
| | |
| --- | --- |
| 2mx1m |   |
| 0.7mm | * 11.80 |
| 0.9mm | * 15.20 |
| 0.55mm | * 9.30 |
| 1.2mm | * 20.30 |
| 1.5mm | * 25.30 |
| 2mm | * 33.80 |
| 3mm | * 50.70 |
| 2.5mm | * 42.25 |
| 0.45mm | 8 |
| 4mm | 67.6 |
| 5mm | 86 |
| 3⁄16″ | 80 |
| 1⁄4" | 107 |
|   |   |
| 8′ x 1m |   |
| 0.9mm | 19 |
| 1.5mm | * 31.00 |
|   |   |
| 8′ x 1mm |   |
| 1.2mm | * 25.00 |
| | |
| --- | --- |
| 2.5m x 1.25m |   |
| 3mm | 79.21 |
| 1.2mm | 31.72 |
| 1.5mm | 39.53 |
| 2mm | 52.81 |
|   |   |
| 4′ x 2′ |   |
| 0.55mm | 3.45 |
| 0.7mm | 4.4 |
| 0.9mm | 5.65 |
| 2mm | 12.6 |
|   |   |
| 10 swg | 20.4 |
| 12 swg | 16.7 |
| 16 swg | 10 |
| 18 swg | 7.54 |
| 26 swg | 2.9 |
SPINNING QUALITY
BSEN 1652
SIZE WEIGHT PER SHEET (KG)
| | |
| --- | --- |
| 2m x 1m |   |
| 1.6mm | 27.00 |
| 1.2mm | 20.30 |
| 0.45mm | 8.00 |
| 0.55mm | 9.30 |
| 0.7mm | 11.80 |
| 0.9mm | 15.20 |
| 4′ x 2 |   |
| 24 swg | 3.45 |
| 20 swg | 5.65 |
| 18 swg | 7.54 |
* Also stocked Bright Polished and Plastic Coated one side