Various Gauges/Thicknesses
DIN 988 Washers
DIN 988 washers are one of the most popular types of shim washer  that we produce here at Stephens Gaskets. We are one of the country's leading manufacturers and suppliers of precision machined components. Therefore, we consider it imperative to work with only the best quality materials. Furthermore, we want to make sure that each gasket we produce is consistent in its quality and reliability.
That's why we have worked hard to gain access to the finest resources and materials to use within our manufacturing. Additionally, we want to ensure that we supply solutions for all sorts of requirements. As a result, we have a long and ever-expanding list of materials that are used in our manufacturing hub – including stainless steel.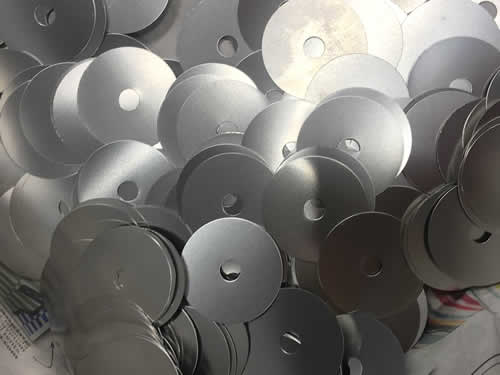 Stainless Steel Shims Washers
Stainless steel has always been a go-to material in the making of shim washers. Our stainless steel shim washers boast numerous desirable properties that attract a whole variety of uses and applications. Steel is a very strong and reliable material to manufacture with and due to the very large amounts of chromium it is resistant to surface corrosion and rusting. As a result, these types of properties make stainless steel washers ideal to use in outdoor applications.
Corrosion resistance is an attractive quality to have as many washers have to be replaced regularly due to rust and damage. Stainless steel washers have the potential to last much longer than other materials – subsequently, saving you money for your project or industry too.
DIN 988 Stainless Steel Washers
We stock a range of graded stainless steel to work with, including DIN 988 stainless steel. This material is sourced from our most established and trusted suppliers. Therefore, guaranteeing that it meets all of the DIN 988 specifications. By using this highly renowned grade of stainless steel, you will be guaranteed a safe, reliable and high performance every time. DIN 988 shim washers have excellent durability and impact resistance. Two factors that are vital when relying on a shim washer for your piece of machinery or project. By using stainless steel, you can also rest assured that weather and corrosion will not affect the performance of the component. You will still be offered the optimum protection to the inside of the device.
Purchasing Steel Washers at Stephens Gaskets
With over forty years of experience under our belts, we have established ourselves as a trusted, flexible and highly resourceful supplier of stainless steel washers. We pride ourselves on the amount of flexibility we can offer our customers. With the extensive range of equipment on our site, we can meet most requirements with ease. Our gaskets are all guaranteed to be consistent in their internal and external properties. As a result, you can trust that they'll ensure your project runs safely and efficiently. Whether it's a small or large batch of washers you require, for an industrial or commercial requirement, you can be sure that here at Stephens Gaskets, we'll go above and beyond to meet your needs – and at the most competitive prices too.
Contact Us Today
For more information, or to contact us about our range of DIN 988 washers, please fill in the contact form on the Contact page or call our team on 0121 544 5808.
We are experts in manufacturing a range of washers, including shim washers.