Various Gauges/Thicknesses
Cork Washers
Stephen Gaskets are proud to be cork washer experts. Furthermore, with over 70 years of experience, we know everything there is to know about the industry. Cork is just one of the many materials used for washers at Stephen Gaskets. 
Excellent Oil and Anti-Vibration Properties
Cork washers have excellent oil and anti-vibration properties. Additionally, cork is a highly effective material for a wide range of applications, such as; oil and fuel pumps, switchgear and electrical transformers. Another benefit, is that when combined with rubber, cork also offers high flexibility and compression.
At Stephen Gaskets, we can manufacture a vast range of different sizes in house. Therefore, if you have specific requirements, we can work with you to produce a bespoke washer.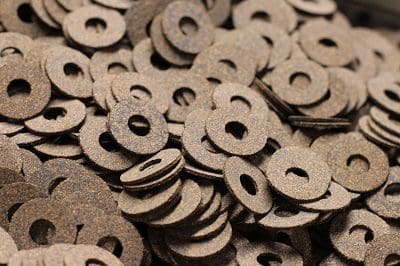 Fire Resistant
Although we commonly think of washers as being made of metal, they can actually be made of a number of different materials. One of these different materials is cork. Cork is a subset of bark tissue, and has a number of impressive properties including fire resistance, elasticity and impermeability. Furthermore, it is relatively inexpensive to manufacture cork washers.
Different Sizes Available
In terms of washers, cork washers are most commonly used for anti-vibration purposes and in electrical switchgear. They are available in a number of different sizes. Therefore, finding cork washers to suit your needs should pose no problem at all. What's more, our excellent level of service will ensure you receive your order quickly and professionally.
Cork Washers Properties
Owing to cork being somewhat malleable, it's a popular choice of material for certain washers. In applications where large amounts of movement are normal, cork's elasticity and buoyancy provides excellent anti-vibration properties. As a result, it makes the ideal choice of washer material. Not to mention its non-conductive properties, making it a handy alternative to plastic in electrical applications.
Used in a Wide Range of Industries
In fact, cork's remarkable properties are so impressive, it's now used in an enormous range of industries. These include making airtight seams for musical instruments, paper pick-up mechanisms in home printers, improving comfort and climate control in footwear and even in fairings and heat shields in spacecraft.
Better Energy Absorption
Cork is even often mixed into concrete. Its unique properties give the composite a lower thermal conductivity, better energy absorption and a lower density than pure concrete itself. Put simply, cork is a material which is simply unrivalled elsewhere in terms of its specific properties. Consequently, it is an ideal washer material for a number of different uses and applications.
Cork Washers from Stephens Gaskets
Buying your cork washers from Stephens Gaskets ensures the highest levels of quality and service. Especially as we are ISO 9001 : 2000 accredited. As well, our company policy is to achieve and exceed the objectives of our Total Quality Management philosophy. Based in Oldbury in the West Midlands, we are strategically placed to offer our products and outstanding service to customers right across the United Kingdom.
The Very Best Customer Service
We pride ourselves in being able to offer the very best customer service experience to both our commercial and consumer clients. Our level of customer service and experience is absolutely unrivalled. As a result, we can always offer you quality products at competitive prices.
Even more, we are experts in manufacturing a range of washers, including shim washers.
Contact Us Today
For more information, or to contact us about our range of cork washers or any of our shim washers, please fill in the contact form on the Contact page. Alternatively, you can call our team on 0121 544 5808.