Various Gauges/Thicknesses
Exhaust Gaskets
A gasket is a mechanical seal designed to fill the space between two surfaces. It is intended to prevent leakage or seepage, both into and out of the joint between the two surfaces. For example, where two solid metal surfaces meet – like a join in a pipe. The seal can never be perfect or ensure that no liquid or gas will escape or enter the joint. A gasket fills that gap.
A Vital Part of Any Exhaust
Gaskets are a vital part of any exhaust. Exhausts are generally made up of a number of different sections. In vehicles it is vital that effective gaskets are used. Otherwise exhaust pipe fumes can escape into places they're not wanted. For example, the passenger cabin or into the environment. Or, for example, not having passed through the catalytic converter, meaning that the vehicle would be considered unroadworthy.
Wide Variety of Gasket Material Available
Gaskets can be made of any number of materials. Solid material gaskets are often being made from sheet metal. exhaust gaskets, in particular, are generally made of steel or copper. Particularly at the head gasket. The head gasket is the gasket which is used in the joint between the engine block and the cylinder head. Older technology tended to rely on composite materials of asbestos or graphite, but these were particularly prone to blow-outs.
Regular Maintenance
If exhaust gaskets are left to degrade, gases can leak through and cause it to have to be replaced. In more extreme circumstances, a gasket can blow – particularly if it is made of aluminium. Aluminium has a high thermal expansion rate. As a result, this can cause damage to the engine block. This can be very expensive to repair, so regular service and care is advised. Head gaskets should only be fitted by a professional, as they need to be tightened to a particular torque using a torque wrench. If this is done incorrectly complete head gasket failure could occur.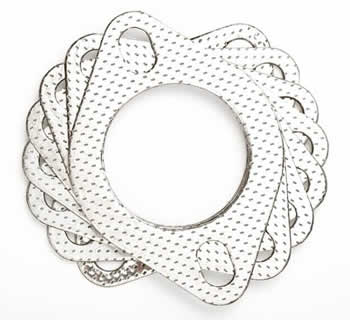 We Produce Different Sizes & Gauges
We can provide gaskets for any part of the exhaust system, in a range of different sizes and gauges. In addition, we can usually offer bespoke exhaust gaskets where required too. So please do contact us today to discuss your requirements. Our strategic location in the West Midlands means that we are perfectly placed to supply all parts of the United Kingdom and further afield.
Stephens Gaskets – Experts Manufacturers of Gaskets Shim Washers.