Various Gauges/Thicknesses
Novus Washers
Stephens Gaskets manufacture and supply a wide range of Novus washers of almost any shape and size. We manufacture them in a range of dimensions and thicknesses, as standard or bespoke parts and we also offer varying grade materials. At Stephen Gaskets, we can produce washers to the tolerances and shape that you require.
Exceptional Sealing Qualities
Novus is a compressed, non-asbestos jointing material made of aramid and glass fibres with a nitrile binder. It was created specifically for its resistance to acids, oils and fuels. Novus washers manufactured by Stephens Gaskets have exceptional sealing qualities against both temperature and pressure. Therefore, they are able to withstand very low and high temperatures without failing.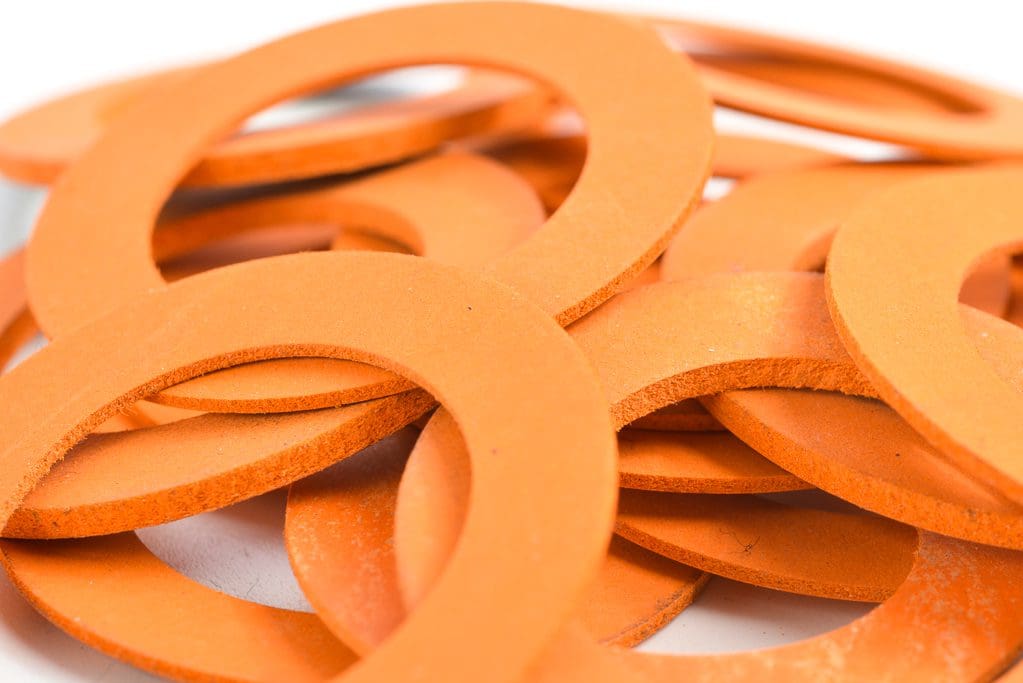 Resistant to Temperatures Up to 400 Degrees
Novus is a brand-named rubber compound, which is especially renowned for its extraordinary resistance to acids, oils and fuels. It is suitable for use in a variety of applications across a broad range of industries. It is also particularly temperature resistant and capable of resisting temperatures up to 400 degrees celsius.
Varieties Of Novus
There are a number of different types of Novus rubber compounds, with two of the most popular ones being Novus 30 and Novus 34.
Novus 30
Novus 30 is a general purpose material which is suitable for use in a wide range of applications. These include hot and cold water, steam, oils, fuels, gases and a wide range of general chemicals. Owing to its resistance to a number of different liquids and materials, it is particularly useful as a compound. At Stephens Gaskets, one of our most popular supplies is Novus 30, a good quality, general-purpose material from which we manufacture a large volume of washers. Novus 30 washers (and Novus 30 gaskets for that matter) maintain a superb seal even against high bar pressure applications, and where high temperature sealing is required.
Novus 34
Novus 34 is a superior performance material with excellent mechanical properties. As a result, it is suitable for many applications, including oils, solvents, high pressure steam and gases including oxygen. Again, its resistance to a number of different materials makes it a particularly popular choice. Its specific resistant properties vary slightly from those of Novus 30, making it suitable for slightly different applications.
Novus Washers at Stephens Gaskets
We can manufacturer Novus washers to suit any size, shape and number of holes and/or slots on the flanges. This ensure they can suit your own particular needs. We can tailor make Novus washers and offer the following thicknesses: 0.25mm, 0.4mm, 0.5mm, 0.75mm, 1.0mm, 1.5mm, 2.0mm and 3.0mm. That's one of the benefits of using Stephens Gaskets: you can have bespoke washers made to fit your own needs and requirements.
Stephens Gaskets are expert manufacturers of a range of shims and washers, including Novus Washers and shim washers.
We are more than happy to answer any questions that you might have about Novus Washers or any other product here at Stephens Gaskets. Please Contact us now for more information on 0121 544 5808.