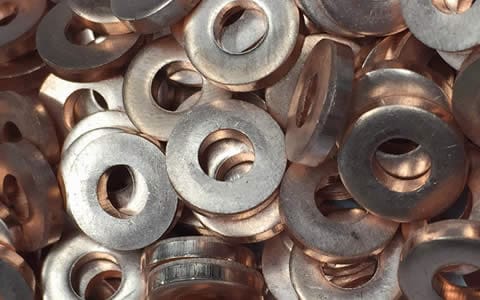 Various Gauges/Thicknesses
Various Gauges/Thicknesses
Annealed Copper Washers
Stephens Gaskets Limited manufacture Annealed Copper Washers to customer specification by means of dimensions or drawings. Once the Copper Washers are manufactured they are then annealed under a controlled furnace to make sure the parts are clean and scale free.
The annealing process which is carried out in a vacuum controlled atmosphere with inert gases, the controlled atmosphere allows for the parts to be finished to a high standard with minimal surface oxidation.
The annealing of the copper washer makes the copper stress free so the surfaces are softer to enable a good seal to be made when used in its application.
Stephens Gaskets can manufacture the copper washers to any size required and specialize in non-standard sizes to most tolerances.
We can produce any batch size from R&D batch sizes to bulk manufacture.