Various Gauges/Thicknesses
Here at Stephens Gaskets Limited we have 70 years of experience in manufacturing. We produce shims from a whole range of materials and for a vast variety of applications. Not only do we provide within the UK we also supply to our customers worldwide. We are confident we can provide the service you are looking for in terms of quality and pricing.
High Quality Components
Quality control is of the utmost importance to the production of all the pressed parts that we manufacture here at Stephens Gaskets. This is why we are proud to have ISO 9001:2000 accreditation. With the quality control procedures we have in place, our aim is to get it right first time so our products are perfect for your requirements. We are based near Birmingham, West Midlands making us extremely central with great access routes. We are also very proud to say that all of our products are manufactured on site.
Available in stock for standard sizes.
We can manufacture small one-off runs to repeat orders of thousands.
Custom made in any material can be manufactured.
Self adhesive backing and a laminated finish is also possible.
What is a shim?
The best way they can be described is essentially as a 'spacer' or 'washer' which is a thin piece of material used between objects to fill small gaps and spaces. While filling this gap it allows for a better fit, level surface and supports the object better, prolonging the lifespan of the machine / components.It has a large impact on the function, performance, and longevity of a piece of equipment. Although easy to overlook, they have the potential to greatly reduce costs.
Wide Variety of Materials Available
We manufacture in multiple materials and sizes, each of these materials has a different property that enhances performance. As manufacturers, this versatility is our strength – we understand our customers' requirements and the market.
We manufacture in a wide range of materials including:
Rubber
Foam
Plastic
Felt
Fabric
Leather
Aluminium
Brass
Many more
Shim Properties
Brass includes aspects such as non-sparking properties, which make brass very good for using in applications that have chemicals and explosive gases. Brass is also supple and has unique acoustic properties, so it can be used in sectors that manufacture electrical appliances. Elsewhere, aluminium is popular with industries that require them to be non-magnetic; aluminium does not ignite easily, it has excellent thermal and electrical conductivity, reflects very well, and is corrosion resistant.
Also when manufacturing them in plastic they are known for their durability. Most plastic can resist corrosive materials like oil. So they're well known to customers for their long lasting application and are also very adaptable. They're easy to trip and manipulate, which gives customers a far greater range of applications.
The different applications are endless, but a few typical uses are automotive, aerospace, construction, packaging, medical equipment and many more.
Bespoke Service
Here at Stephens Gaskets our manufacturing quality is something we are very proud of. Our products are available in stock for standard sizes, or we can offer a bespoke service using any material with our state-of-the-art machines. We can manufacture small one-off runs to repeat orders of thousands. We can also offer self-adhesive backing and a laminated finish.
Over 70 Years of Experience
Stephens Gaskets Limited is a long-standing precision parts manufacturer having been established in 1947. Whatever your needs, we can cut material to size quickly and accurately for a quality product every time.
Please call and speak to one of our team at Stephens Gaskets, who will be happy to assist you with anything you need.
For all your pressed part requirements please Contact us for a quotation.
Stephens Gaskets specialise in the manufacturing of shim washers.
Features:
Same day quotes
Made to order
Any shape, any size, any thickness
Large amounts of UK stock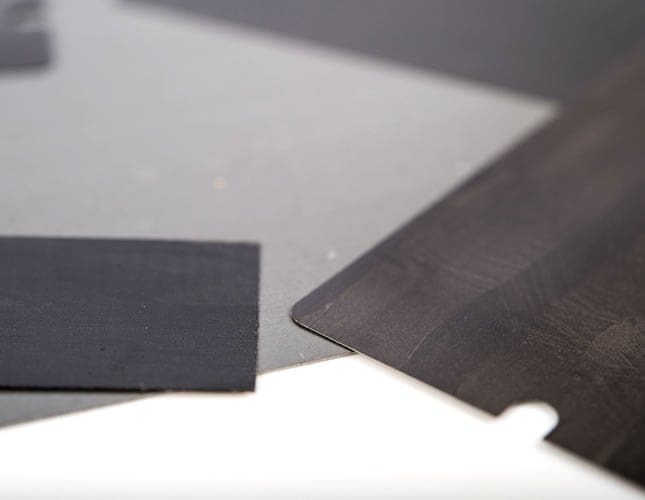 Stephens Gaskets is a leading manufacturer of precision machined components, specialising in production. We have over forty years of experience as shim manufacturers under our belts and can proudly produce these mechanical solutions for a wide range of industries and applications.
Whatever Material You Require
At Stephens Gaskets we use highly advanced equipment and technology in order to create quality and refined components that can meet the requirements of our customers. We supply in many different variations of size, thickness and material so that we can support as many different applications as we can. Some of materials we work with include, plastic, aluminium, rubber, stainless steel and brass. Although we have a wide selection of the components to choose from, we can also supply custom made shims. They are produced using powerful laser cutters to ensure precision and accuracy during the entire production process. These bespoke products can be made to the customer's exact specifications in order to guarantee the perfect fit.