Various Gauges/Thicknesses
A washer is a small disc or ring which is designed to sit between two parts of a piece of machinery in order to act as a buffer or spacer. They can help to reduce friction, improve seals or to fill spaces between two components.
Large Variety of Materials In Stock
At Stephens Gaskets we stock them in a number of different materials and sizes, each of which is dependent on the specific properties required. For example, in an application where you're looking to reduce vibration — in washing machines, for example – cork would be the best material for the job. Likewise, for water and oil resistance as well being non-degradable, nitrile would be the right material to use. From synthetic rubbers to metal and natural cork. Whatever imperial shim washers you require choosing the right material for the job is vital.
Products for Every Industry
Even Klinger washers are available, made from compressed fibre and ideal for sealing against gases, solvents and liquids. These are often used in marine and industrial applications such as oil pipelines and diesel engines. They're able to withstand temperatures over 400 degrees celsius, they're a truly industrial machine part.
Made To Your Specifications
We can do machine turn to your own specifications, based on the thickness and diameter – both inside and outside – that you require. Our CNC turning machine can work with stainless steel, brass, mild steel, copper, aluminium and more, depending on the specific properties you require. Copper, for example, is conductive as well as being malleable and strong, whereas aluminium is lightweight and nonmagnetic.
Stephens Gaskets, West Midlands
We are strategically placed in the West Midlands to be able to provide materials to customers right across Britain and further afield as quickly as possible. We pride ourselves on providing a bespoke service, customised to your own particular requirements. After all, a washer is a piece of precision engineering and having the right measurements can be the difference between a perfect seal and a leaky joint.
Features:
Made to your requirements
Midlands manufacturing
Large stock available
Black Country family business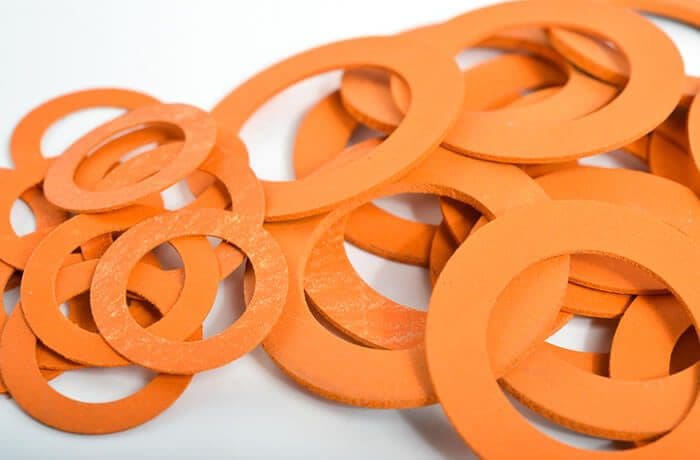 Washers can play an important role in the running of a piece of machinery, so it is important that you source your components from a trusted and experienced supplier. Here at Stephens Gaskets, we are proud to be one of the country's leading suppliers and strive to meet as many requirements we can with our flexible and professional services.
Types of Washers
We have products available in a wide variety of materials; the type you choose will depend on your application. We don't just manufacture metal washers; we also work with other useful materials too such as cork, rubber and plastic. It's important you bear in mind the properties required before making your purchase – something we are happy to assist with. For example, if you're looking for a washer for a washing machine to reduce vibration, cork would be the ideal material to choose. Likewise, nitrile can assist in applications which require water and oil resistance.
We Have the Size You Need
Our affordable products are also produced in numerous different dimensions and thicknesses, but if you can't find the size you need, we also have a bespoke service on hand too. With unlimited variations you'll be sure to find what you need with us.