Spring Steel Washers Manufacturing Experts & Bespoke Spring Steel Washer Specialists
Call 0121 544 5808 Today
Various Gauges/Thicknesses
Spring Steel Washers
Stephens Gaskets Ltd manufacture bespoke Washers. We can produce them to your particular requirements. Please send us your drawing or dimensions for any component you may require.<
Below is a list of specifications and grades that we stock:
Our spring steel is stocked in coil and strip with the following surface finishes:
Blue / Black
Bright
Polished
Examples
Thrust Washers
Axles Shims
Pinion Shims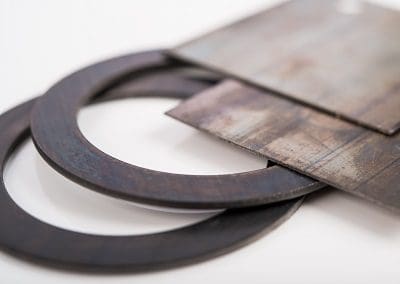 Here at Stephens Gaskets we've been manufacturing bespoke washers for a wide range of industries since our foundation in 1947. Subsequently, we have nearly seven decades of experience in supplying Spring Steel Washers in a range of grades, suitable for any purpose. We are proud to offer a range of services in the washer, shim, and gasket production industry, with national and international delivery available and a quick turnaround time to suit your every need.
Bespoke Service
Working from your drawings and specifications we can manufacture any component that you require, from small-volume batches up to large-volume batches. Our team is equipped to produce bespoke Spring Steel Washers to the following grades: CS70, CS80, CS95 and CS100. Our spring steel is stocked in both coils and strips with a blue-black, bright, or polished finish, available depending on your individual requirements.
High Precision Machining
The team here at Stephens Gaskets are adept at the manufacture of Thrust Washers, Axle Shims and Pinion Shims, along with a wide variety of other Spring Steel Washers. Our high precision machining ensures that your product will perform as expected, giving you peace of mind when it comes to safety, strength, and durability.
Wide Range Of Products
Over the years we have increased our range of high-quality products to include exhaust gaskets, cylinder head gaskets, Novus gaskets, graphite gaskets, ring shims, precision washers, steel shims and many more, making catering to our customers' individual needs simple and straight-forward. Stephens Gaskets quite simply are the best in the business!
Call Us Today
If you would like any more information about our Spring Steel Washers (or about any of our other high quality products), give our friendly and knowledgeable staff a call. They will be happy to answer any questions and share their expertise, no matter what your query. Whatever industry you are in, let our dedicated team provide you with an instant quote for our bespoke Spring Steel Washers.
With over four decades spent manufacturing shims, washers and gaskets, Stephens Gaskets are proud to have developed into a well-established business, which supplies only the highest quality products. Our washers are a particularly popular component with our customers as they consistently demonstrate strength, reliability and durability. Available in a wide range of materials such as steel, cork, brass, spring steel and aluminium, our washers can be created in a vast selection of sizes and thicknesses so you can rest assured that there is something for everyone here at Stephens Gaskets. Our Spring Steel Washers are a particular favourite and offer a solution to many different applications.
Stephens Gaskets are expert manufacturers of a number of types of washer, including spring steel and shim washers.