Stainless Steel Shim Manufacturing Experts & Bespoke Stainless Steel Shim Specialists
Call 0121 544 5808 Today
Various Gauges/Thicknesses
Here at Stephens Gaskets we offer the best quality
stainless steel shim
and foil around – but why use these over other types of shims? And why use Stephens Gaskets?
Reduce Wear & Tear
Basically, a shim or a foil is a thin piece of material (such as metal) which is used to fit in between components (such as in machinery) to adjust the fit or alignment. Over time, parts of machines can get worn away or ground down, resulting in the part losing its functionality, but the introduction of shims can reduce this wear and tear, allowing the machine to last longer and keep to its required levels of accuracy.
Wide Range of Thicknesses
We offer a wide range of thicknesses (please see the table below), and our stainless steel 304 grade shims come either rolled in a can or flat packed.
Quality Products
So why use Stephens Gaskets to get your stainless steel shim? We have been established since 1947 and our staff and our knowledge base has grown over the years, enabling us to offer you the best quality products and the highest level of customer service as possible.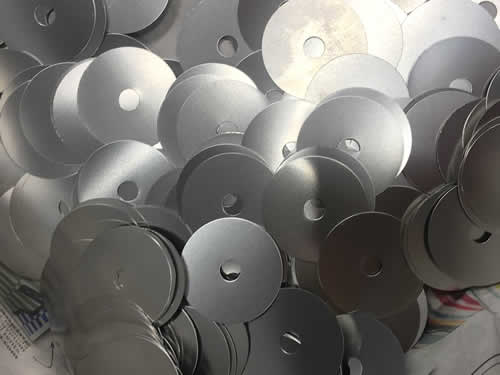 Worldwide Delivery
We serve a wide range of clients, both in and outside of the UK, and we offer a comprehensive range of pressed parts – from gaskets to ring shims to precision washers and more – meaning that no matter what your requirements, we'll be able to provide you with the best possible product for your needs. We have an extremely fast turnaround time and offer worldwide delivery as well.
Stainless steel shim at Stephens Gaskets
Do you want to find out more about our available products? Get in touch today to find out about this or any of our other services – our expert staff will be happy to help you no matter what your requirements, and will be able to advise you on a wide range of the products we offer.
Stainless Steel Imperial & Metric x 6″ wide
Thickness
Packaging
Price / Can / Pack
0.002″ / 0.05mm
Can ( 1pc x 60" lg )
£27.54
0.003″ / 0.075mm
Can ( 1pc x 60" lg )
£28.87
0.004″ / 0.1mm
Can ( 1pc x 60" lg )
£29.13
0.005″ / 0.127mm
Can ( 1pc x 60" lg )
£30.14
0.006″ / 0.15mm
Can ( 1pc x 60" lg )
£31.00
0.008″ / 0.2mm
Can ( 1pc x 60" lg )
£31.98
0.010″ / 0.25mm
Can ( 1pc x 60" lg )
£33.67
0.012″ / 0.3mm
Flat Pack ( 6pcs x 10" lg )
£38.48
0.015″ / 0.38mm
Flat Pack ( 6pcs x 10" lg )
£40.76
0.020″ / 0.5mm
Flat Pack ( 6pcs x 10" lg )
£41.54
0.028″ / 0.7mm
Flat Pack ( 6pcs x 10" lg )
£57.45
0.036″ / 0.9mm
Flat Pack ( 6pcs x 10" lg )
£59.73
After forty years of producing mechanical solutions for a wide range of industries, Stephens Gaskets has become one of the country's leading manufacturers of stainless steel shims. They are produced using only the highest quality resources. We create steel shims that are guaranteed to provide long lasting strength, durability and performance. They feature a wide scope of benefits such as their high resistance to rust, corrosion and impact making them a perfect solution for outdoor applications. We strive to meet as many different requirements as we can, which is why our shims are available in numerous variations of sizes, thicknesses and materials. If our clients still can't find what they are looking for, our bespoke service is also available, ready to tailor our products to more specific requirements.
Shim Stainless Steel | Reliable Material Every Time!
Stainless steel is one of the world's most reliable materials to use in machinery due to its strength and durability. It lends itself to both internal and external mechanical uses and is a material that performs outstandingly time and time again. Here at Stephens Gaskets, we are no stranger to steel either and we are proud to use the material throughout a wide range of our products including our shims, washers and gaskets. We work with the material using advanced manufacturing techniques and machinery to ensure we can create the perfect product that is guaranteed not to let you down.
Stephens Gaskets are experts at the manufacturing of shim washers.