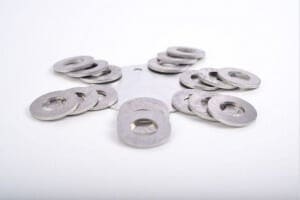 Shim washer materials may be small, and can be overlooked, but they are, nevertheless, essential to the smooth running of numerous products, from machines in factories to cars, and can be made out of a variety of materials.
A shim washer, in simple terms, is a 'spacer' that is used to fill small gaps and spaces between two objects, to give a level surface and a better fit. They can also support an object.
Shim washer materials can include shim steel, stainless steel, brass, copper, aluminium, felt, leather and polyester plastic – among many others. The range is huge – as is the number of applications for them.
Stephens Gaskets recently introduced a new shim washer material – high carbon spring steel. These shim washers, an alternative to the standard brass shim washers regularly used in industry, offer a combination of strength, flexibility and durability. In addition, the spring steel shim washers can help to extend the life of components themselves by preserving the faces of the two components, meaning that when the time comes for maintenance, only the shims need to be replaced rather than the components, which can save a significant amount of money.
Our high carbon spring steel shim washers are available in a multitude of sizes, meaning they can be used in numerous applications. We can also create bespoke shim washer materials to cater for a client's individual needs.
Here at Stephens Gaskets, we have been manufacturing shim washers in a wide variety of materials for many years and supply them throughout the UK and worldwide.
Quality is a watchword at Stephens Gaskets, and we use the highest quality shim washer materials and are flexible enough to offer a fast turnaround on jobs to customers. We also have highly qualified technical support available to customers.  
We are also large enough to be flexible, so can manufacture anything from small one-off runs to repeat orders of thousands. Custom shim washers in any material can be manufactured to the client's specifications too.
Stephens Gaskets is based in Oldbury, near Birmingham, and was established in 1947. As well as manufacturing shim washers in a range of materials, we also produce gaskets, exhaust gaskets, cylinder head gaskets, novus gaskets, graphite gaskets, ring shims, precision washers and many others.
For more information, please visit our website or contact us on 0121 544 5808. To read more about shim washers and their uses you can visit our previous blog update by clicking here.