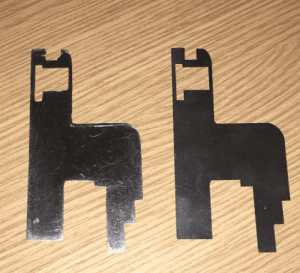 At Stephens Gaskets Ltd we are manufacturing specialists in shim steel, bespoke shims and a range of other manufacturing components. Time and time again we provide excellent client service and tailored projects specific to the needs of our clients.
A shim is a narrow piece of material (often metal), used to fill gaps between manufactured components and provide a better fit or level surface. Our shims are available in a range of materials, namely, rubber, felt, plastic, fabric, leather, aluminium, brass, copper, steel and stainless steel.
All of our shims, including our shim steel and other pressed parts are ISO 9001:2000 and ISO 14001 accredited. This ensures that we are consistently providing our customers with the highest quality of goods.
Shim Steel – Manufacturers vs. Hands?
Pre-cut shim steel has many benefits compared to hand cutting your own shims. Firstly, by making use of a manufacturer you will save yourself a great deal of time. Secondly, the quality of the product will be of the highest precision quality and thickness, as it can be manufactured using state of the art equipment and highly skilled technicians. The shim steel thickness will be undistorted and consistently even throughout. This is particularly important when safety is a concern, as professionals will assure you that the shims will perform as designed.
Why Is Stephens Gaskets Ltd Special?
All of our products are manufactured on our site in Birmingham and we are one of very few manufacturers who have been gathering expertise and experience since the late 1940s. As our business has grown over the years, so has our range of skills and products. We now offer a range of alternative services from plastic injection moulding to laser cutting. We are renowned for our speedy turnaround, worldwide delivery, quality goods and cost-effectiveness.
You can select the thickness of your steel shims from a range of pre-cut sizes or have bespoke designs cut for you quickly and easily. We also have a range of stainless steel shim packs which come in easy to transport cans, and our CS4 steel shims come either rolled in a can or flat packed. We offer an extensive range of shim steel thicknesses ranging from 0.05mm to 1.0mm in width, and we are confident that our extensive range of shims will meet your requirements and budget.
Do not hesitate to contact us on 0121 544 5808 or visit our website for more information https://www.stephensgaskets.co.uk/. Our dedicated team look forward to working with you.