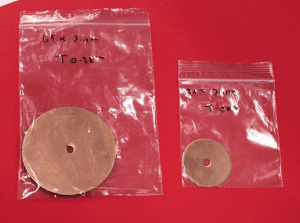 Stephen's Gaskets are leading UK copper shim manufacturers. We manufacture a range of copper shim dimensions to suit the needs of a range of projects. Our variety of measurements ensures that your copper shim will be fit for purpose. In addition, they are capable of withstanding the vibrations and movements within the mechanism. This so the machine itself doesn't have to. This makes repairs and replacements much easier, faster and cost-effective.
Copper shims are notoriously famous for their insulation, levelling, sealing and spacing applications. This is thanks to their soft and malleable structure. The other properties of the copper material include fantastic corrosion resistance and its usefulness in electric and heat conductance. The copper shim is most often used in electronics, building construction, transportation and power generation, to help fill small spaces between component parts.
A copper shim can allow a machine to move or rub, whilst the shim absorbs the impact and abrasion. Over time, all machines require maintenance. Therefore, a replacement of a pressed part is much cheaper than replacing damage to the machine.
This electrical conductance of this ductile metal makes it the perfect material for cabling. Copper shim would also not react with water, so it is ideal for water transfer and piping applications. However, as with most metal, copper can oxidise when exposed to air, and develop a copper oxide layer on its surface. Therefore, it is important to seek advice from our team of specialists to ensure you are purchasing the correct shim material for your project.
Copper Shim Manufacturers | Stephen's Gaskets
As a leading copper shim manufacturer, we now have a number of different shims and foils available in a range of standard sizes and gauges. However, if you require something more specific, we also have a bespoke design service available.
No matter how large or small the quantity you require is, or the complexity of the order, our state of the art machinery and skilled engineers are sure to be able to help you with your project.
We also tailor each project to the needs and budget of our clients. We want you to have top quality goods at a fitting price; therefore we do our best to ensure that our products keep you safe and your pocket remains healthy. So give us a call today to see what we can do for you.
For more information, call 0121 544 5808 or visit our website for more information on Copper Shims. Read our previous blog on Shim steel packs here.