Various Gauges/Thicknesses
Plastic Shims
Plastic shims can be used in a broad range of applications due to their vast properties.  Overall, plastic is a durable material with an extensive range of temperature tolerances, which makes it a great all-round shim solution. It can also be very cost effective when it comes to shim washer production.
Excellent Wear Resistance
Shims manufactured in plastic have excellent wear resistance with a high strength to weight ratio making in a popular alternative to metal materials.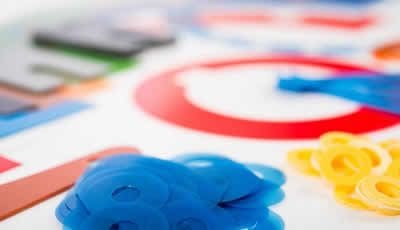 Good Corrosion Resistance
They have good corrosion resistance and a low co-efficient of friction. This helps to prevent corrosion between dissimilar materials. It is also easily manipulated and safer to use than most standard shim materials.
The Key Benefits of Plastic Shims & Gaskets:
Durability – Plastic shims and gaskets are extremely durable. As a result, they are long-wearing and do not corrode or deteriorate. In addition, it will not absorb moisture.
Variety – They come in a wide range of sizes and thickness to fit a wide assortment of applications. Stephens Gaskets carries a huge stock and offers a bespoke manufacturing service.
High standards – All of our shim washer production processes comply with the necessary standards to ensure that they reach adequate compression strength.
Adaptability – You can trim and manipulate the plastic, which offers a greater range of applications.
Shim plastic is a low-cost, versatile material for shim washers, and is one of the most common materials used for washers. Some industrial applications are:
Construction – Washers used to help secure bolts or nuts, or to provide spacers to help secure fasteners.  They are also used when between metals at a join to protect them and protect the join from rust.
Compressor – Washers to join metal components, protecting them from rust and other corrosion.
Material Handling – High-wear washers for components that require low-friction operation.
Petrochemical

 – Washers for equipment exposed to corrosive materials, or in high-wear parts.
Leading UK Supplier
At Stephens Gaskets Limited we offer a wide variety of plastic shim sheets and packs to meet your needs. As experts in the various applications of plastics we ensure that customers receive products that meet their exact requirements. We are proud to be a leading UK supplier.
Remarkably Tough & Very Versitle
PLASTIC Polyester materials are remarkably tough with high compressive and dielectric strengths, very low water absorption, excellent dimensional stability over a wide range of temperatures and good resistance to most chemicals, ozone, direct sunlight etc, making plastic shims or foil very versatile. This product is suitable for many shimming applications with very economical tooling costs. This material can also be sold in full sheets measuring 24½ x 48½
Other sizes available – 0.3mm , 0.7mm , 0.9mm , 1.0mm or .006″ , .012″ , .028″.
If you require plastic shims or gaskets, please contact us for a quote.
PLASTIC SHIM x 6″ wide
Thickness
Packaging
Price / Can / Pack
0.001″ / 0.025mm
Can ( 1pc x 24"lg )
£3.95
0.0015″
Can ( 1pc x 24"lg )
£3.95
0.002″ / 0.05mm
Can ( 1pc x 24"lg )
£3.95
0.003″ / 0.075mm
Can ( 1pc x 24"lg )
£3.95
0.004″ / 0.1mm
Can ( 1pc x 24"lg )
£4.19
0.005″ / 0.127mm
Can ( 1pc x 24"lg )
£4.19
0.008″ / 0.2mm
Can ( 1pc x 24"lg )
£4.50
0.010″ / 0.25mm
Can ( 1pc x 24"lg )
£4.22
0.012″ / 0.3mm
Flat Pack ( 2pcs x 12″lg )
£5.40
0.015″ / 0.38mm
Flat Pack ( 2pcs x 12″lg )
£5.23
0.020″ / 0.5mm
Flat Pack ( 2pcs x 12″lg )
£5.48
0.025″ / 0.6mm
Flat Pack ( 2pcs x 12″lg )
£5.75
0.030″ / 0.76mm
Flat Pack ( 2pcs x 12″lg )
£6.00
0.040″ / 1.0mm
Flat Pack ( 2pcs x 12″lg )
£6.39
0.050″ / 1.27mm
Flat Pack ( 2pcs x 12″lg )
£6.69
0.060″ / 1.5mm
Flat Pack ( 2pcs x 12″lg )
£6.84
At Stephens Gaskets Ltd we go out of our way to ensure our customers have the best possible service. Whether it is a shim washer or a neoprene gasket, we will always try and accommodate the exact specification needed with our bespoke service and highly skilled customer service representatives.