What are Shim Washers?
Put simply, shims and washers are thin pieces of material which are used to fill gaps and spaces between objects. They're also often called spacers, which perhaps better describes their function. They can provide a supportive surface between two fittings, helping to create a better fit and sometimes even a seal between two pieces of machinery.
As Shim washer suppliers we can make them from a number of materials, including aluminium, brass, felt, fabric, rubber, leather, foam, plastic as well as the popular stainless steel shim washers. Each material will have its own specific properties, for example being watertight, pliable, strong, soft, expandable or impermeable. Depending on the specific usage, one or more particular materials will prove to be more suitable than others.
Stephens Gaskets – Quality Shim Washer Suppliers
We have both ISO 9001:2000 and ISO 14001 accreditations. This highlights the standard of our business practices and the quality control procedures we have in place. We ensure that the production of all pressed parts and precision shim washers are of the highest possible quality, in order for us to get it right first time — every time.
All of our shim washers stock is manufactured on site at our base in Birmingham, in the West Midlands. This strategic position allows us to manufacture either small runs or large repeat orders with ease. Furthermore, have them delivered to you quickly and efficiently. Our delivery times have reduced even more recently and efficiency has increased even more. Therefore, enabling us to go above and beyond and offer an even better service to our customers.
Midlands Manufacturing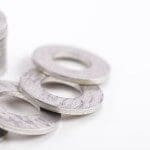 As a shim washer supplier our heritage as a Midlands manufacturing company is something we're very proud of. We were founded in 1947, so we have a huge tradition and wealth of experience in the manufacturing industry, having long been one of the most successful independent manufacturing firms in the area. This is something we are rightly proud of. We go a long way to ensuring we can continue to offer a fantastic service. Most importantly, to both new and existing customers.
Shim Washer Suppliers | Get in Touch
We are shim washers suppliers both within the UK and much further afield, and are proud to be able to offer a range of bespoke products including precision shim washers to suit your needs. Our team are ready and waiting to speak with you. We will find out more about your requirements, and will be more than happy to explain how we can help.
For more information on our products and services and how to buy metric shim washers from Stephens Gaskets, call our team today on 01215445808 and we'll be happy to help.
If you enjoyed this article you may also like to read our previous blog on Shim Washer Manufacturers here.