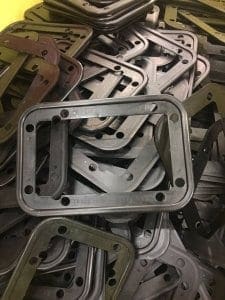 Before you start considering a head gasket replacement it's important to assess whether or not your gasket is actually performing abnormally or not. It is key to remember that not all 'smoke' that you see coming from the exhaust pipe is something to worry about.
Do I Need a Head Gasket Replacement?
Of course, smoke coming out of the exhaust is never good news, but it doesn't necessarily mean you need to start looking for a head gasket replacement just yet. For instance, you are driving in a traffic jam, but the cars from the opposite direction are moving fast. If you notice a truck in front of you oozing thick smoke, you may question the maintenance of the truck. Smoke from the exhaust is not good news, but does not necessarily mean the engine needs rebuilding. First, you need to determine what colour of smoke is coming from the exhaust. The three most common colours of smoke include white, blue and black.
White Smoke Coming Out of the Exhaust
If you see white smoke coming out of the exhaust the chances are, there is no need to worry. It is incredibly likely that this white smoke is just steam. White smoke is caused by water and or coolant entering the cylinder, and the engine trying to burn it with the fuel. There are special gaskets (head gaskets are the primary gaskets) that keep the coolant from entering the cylinder area. These may have failed, resulting in excessive amounts of steam leaking from the exhaust.
Help – My Exhaust is Leaking Blue Smoke!
Blue smoke is caused by engine oil entering the cylinder area, and being burned along with the fuel air mixture. As with the white smoke, just a small drop of oil leaking into the cylinder can produce blue smoke out the exhaust. Blue smoke is more likely in older or higher mileage vehicles, than newer cars with fewer miles. You might need replacement of these seals in order to prevent this from happening. You may also benefit from using a specially designed oil that is suitable for older engines, and engines with high mileage.
.
Black Smoke Escaping from the Exhaust
Black smoke is caused by excess fuel that has entered the cylinder area and cannot be burned completely. Another term for excess fuel is "running rich." Poor fuel mileage is also a common complaint when black smoke comes out of the exhaust. Black smoke is the least cause for alarm. Excess fuel will usually effect engine performance, reduce fuel economy, and produce a fuel odour. Black smoke is also more common in older diesel engines caused by numerous things. Including, but not limited to, dirty air filters, fuel injectors, a turbocharger malfunction – as well as poor fuel quality.
Smoke should be regarded as an opportunity to take measures that will save you money, in both the long term and short term. At the least, smoke may be due to a simple problem. As a result, causing poor combustion efficiency and costing you in excessive fuel bills. At the other end of the scale, though, smoke may be your last chance to act before a catastrophic engine failure occurs.
Article sourced from: http://www.monitor.co.ug/Business/Technology/-/688612/1241858/-/8veuk8z/-/
Buying Head Gasket Replacements
As one of the leading suppliers of head gaskets, you can be sure to trust Stephens Gaskets when it comes to manufacturing parts for your engine. With a wide range of head gasket material to choose from, we've got the ability to manufacture standard sizes. Additionally, we can custom manufacture head gaskets – expertly tailored to your requirements.
Contact us Today
At Stephens Gaskets, we are expert gasket & shim washer manufacturers. If you would like to find out more about the head gasket replacement services that we can offer, head to our website today. Alternatively, you can call  0121 544 5808 to speak to a member of our helpful and friendly team.
If you have found this blog helpful, you may wish to read our previous blog on Laser Cutting.