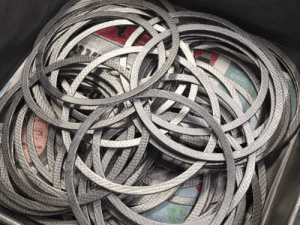 Stephens Gaskets is a leading manufacturer and supplier of premium grade graphite head gaskets and graphite gaskets. We believe in offering only state of the art products to make sure they use these to their industrial application with complete satisfaction. Our graphite flake sheets are capable of withstanding significantly more aggressive chemical environments. These also go unaffected by higher pressures. All our metal inserted materials are built in a fashion to function even at higher pressures. Under reducing environments, pure graphite is accomplished to handle up to 5000 F.
Graphite Head Gaskets at Stephens Gaskets
We believe in offering affordable high temperature / pressure materials to our clients. Our graphite gasketing materials are manufactured from pure exfoliated brilliant sealing characteristics accomplished to endure high range of temperatures pressures and chemicals. This homogeneous material is without:
Additives

Respirable fibers

Binders
Standard grades for graphite gaskets range between 95% and 98%. Graphite is known to be an extremely conformable material which gives it the capacity to flow into flange surface imperfections. It also possesses low permeability and holds excellent resistance to chemicals making it a perfect choice as a sealing material.
We offer a wide variety
At Stephens Gaskets, we offers a wide variety of graphite combined with a variety of core materials to help industries get the best of gaskets for their niche applications. The flexible graphite we use for manufacturing gaskets is known for its extra soft nature that makes it a superb sealing agent. However, this may break if bent without caution. Hence, we offer a specially designed foil insert for easy handling. We also offer a tanged insert with our graphite gaskets for easier cutting. Our graphite gaskets are available in a range of grades including automotive, industrial, and nuclear.
Stephens Gaskets specializes in manufacturing and supply of high quality sealing, graphite gasket and graphite head gasket products. These are based on premium range of expanded graphite. We focus on offering a wide range of flexible graphite based products and services. These are specifically used in preparing graphite head gaskets.
We also offer an extensive range of graphite foils that are held in stock, and then transformed in-house to satisfy a wide range of applications across many industries. We undertake extreme pride our glorious history of solving application based problems. Right from cryogenic to elevated temperatures, vacuum and high pressures, Stephens Gaskets continue to guarantee state of the art quality products based on this exclusive material.
High purity flexible products
Graphite gaskets and graphite head gaskets from Stephens Gaskets are widely available in a variety of high purity flexible products. We also offer a wide range of gaskets that are segmented and fully machined as per specific valve applications requirements of our clients. All our graphite gaskets can handle higher temperatures and their stability increases with specially filled graphite gasketing materials. These gaskets possess anti-stick properties for many styles and eliminate the need for flange gasket cleanup process.
For premium quality graphite gaskets or custom made gaskets, please get in touch with us now! We also welcome queries related to graphite gaskets.
By Piers Baynton
Stephens Gaskets are committed to providing the best service and high quality products. If you'd like more information on gaskets or to place an order with Stephens Gaskets, please contact 0121 544 5808 or email sales@stephensgaskets.co.uk. Regular blog articles are available to read, the last blog subject was neoprene rubber gaskets from Stephens Gaskets