Various Gauges/Thicknesses
Threaded Washers
Here at Stephens Gaskets we ensure all of our fit-for-purpose products meet our high standards, and our washers are certainly no exception. Our wide range of washers come in different shapes, sizes and materials, but what is the purpose of our threaded washers?
Versatile Washers
Threaded washers have a primary responsibility to boost the load-bearing capabilities, which a threaded fastener can often place on a component. They are one of the most versatile washers and can be used for wear-protection, spacing and pre-load indication.
Maintains IP Rating
In installations, it is vital to maintain IP (Ingress Protection) ratings at which the equipment has already been rated as, and this applies to both commercial and industrial projects – small or large. To maintain the IP rating, it may be deemed necessary and often compulsory to fit a threaded washer at the interface of the equipment-to-gland entry. Our manufacturing process operates at a particularly high standard to make sure that our customers receive a product that is safe to use, and easy to work with each and every time.
Leading Washer Manufacturer
Choosing Stephens Gaskets to manufacture your goods guarantees quality, consistency and durability throughout every washer we produce. As one of the UK's leading washer manufacturers, we have spent over fifty years gaining an in-depth understanding into the manufacturing of shims and washers and the materials to use. This now enables us to produce mechanical components that serve a wide range of industries and purposes, all at extremely competitive prices.
Worldwide Delivery
Established in 1947, we have accumulated an extensive amount of experience in the trade, that reflects in our work and services, which we can now provide worldwide. Our fast turnaround combined with our 24/7 emergency response service means we are undoubtedly a company you can rely on, so you can rest easy knowing your component requirements are being fulfilled by a company that knows exactly what they are doing.
Huge Variety of Products Available
We aim to provide services that reach out wide to many different clients and purposes which is why you will find our products are always available in a number of different materials, suitable for lots of different applications. From stainless steel washers and cylinder head gaskets to aluminium shims and strip material, the huge variety of products we offer and can produce almost guarantees you will be able to find what you are looking for with us!
Bespoke Service
Here at Stephens Gaskets, we appreciate that sometimes-generic measurements of a component will not be suitable for a project, which is why we also offer a bespoke service too. Our bespoke service is on hand to work closely with the customer in order to create a perfectly custom-made shim or washer that is tailored to more specific measurements and requirements.
Reliable & Trustworthy
With over fifty years of experience and knowledge under our belts, and an impressive portfolio of clientele, it is safe to say that the team at Stephens Gaskets have established themselves as a reliable and trustworthy company, dedicated to providing expertly made mechanical solutions time and time again.
Please contact us to discuss your requirements today.
Features:
Improve load bearing capabilities
Maintains IP Rating
Leading washer manufacturer
We can supply worldwide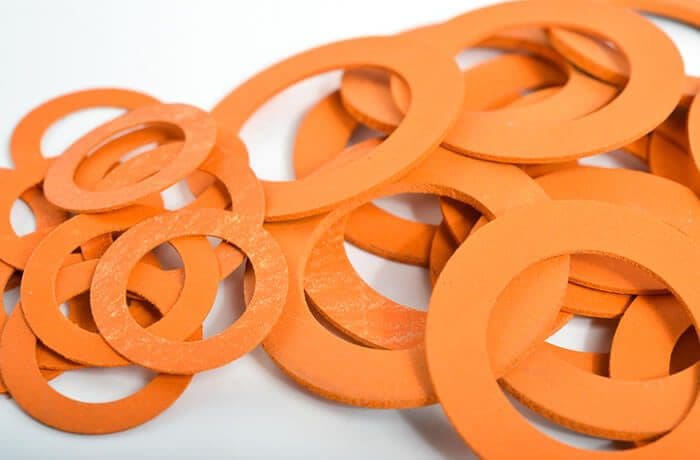 Threaded washers have an important responsibility to boost the load-bearing capabilities that a fastener can often place onto a component. They are one of the most versatile washers on the market, and can be used for wear-protection, spacing, and pre-load indication.
Here at Stephens Gaskets, we are proud to be able to manufacture threaded washers in a wide variety of shapes, sizes, gauges and materials. With over fifty years of experience under our belts, we have established ourselves as a leading supplier of washers and have the tools and skills to accommodate a wide range of applications. We want to make sure we can provide mechanical solutions to as many different applications and clients as we can – which is why all of our services are incredibly flexible. Some of the materials which we can produce your threaded washer in include stainless steel, aluminium and plastic. All of our materials and resources we work with are sourced from trusted suppliers, to ensure quality and consistency each and every time.
Threaded washers can also be custom made at Stephens Gaskets, so you can rest easy knowing that even if you have the most intricate requirements – we will be able to provide you with the perfect solution.