Various Gauges/Thicknesses
PTFE Washers
With decades of experience manufacturing washers, at Stephens Gaskets, we strive to offer our washers in as many different forms as we can – including our PTFE washers. Whether it's the shape, size or material, we will always aim to provide you with a solution no matter what application you require it for.
Highest Quality
We use many different materials to manufacture our washers. Therefore, we can provide services to as many different industries as we can. All of our washers are made using the highest quality resources. As a result, we can ensure our products are safe, good value for money, and do not let you down.
PTFE Washer Manufacturers
Amongst the many different washers, we proudly manufacture and supply our PTFE Washers. Every component we manufacture has its own individual and beneficial properties. This makes them suitable for use in specific applications.
Wide Range Available
Our washers are no exception to this. As leading PTFE washers suppliers, we are proud to have a large selection of these washers on offer in many different variations. All ready to meet all of your requirements.
Precision Cutting
PTFE Washers can be manufactured here at Stephens Gaskets using highly advanced precision cutting. This method can create any specific size or thickness that our clients require.
Strong & Durable
There are many benefits to PTFE washers, especially their strength and durability. They are low coefficient of friction, one of the lowest out of any other solid materials. These washers, are suitable for most moving components, and their texture and material allows components and different parts to glide over surfaces seamlessly, and easily. These factors make these types of washers' ideal for use with bearings, gears and other sliding parts in the automotive industry.
Non-Conductive
PTFE washers also feature excellent dielectric properties. The material is very thermal, yet remains non-conductive. This makes it a popular choice for electrical insulators within circuit boards.
Chemically Resistant
These types of washers also have a fantastic chemical resistance – the chemically inert PTFE is non-toxic which is why it is also used in laboratories against strong acids and other chemicals. The material is solvent resistant up to 300°C.
Stephens Gaskets are expert manufacturers of a range of washers, including PTFE and shim washers.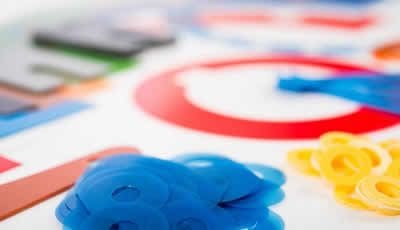 Used In a Wide Range of Industries
From the above, you can see that PTFE is a very trustworthy material to use as a basis for a washer, which is why PTFE washers are incredibly versatile too – not just limited to one type of use.
These types of washers are produced for a wide range of different industries including the construction, automotive, home appliances and architectural industries.
Bespoke Laser Cutting Service
Here at Stephens Gaskets, leading suppliers of precision machined components, we are proud to have such a versatile range of washers to choose from. However, we understand that sometimes our clients will be looking for something with a specific measurement.
If our generic sizes don't quite meet our customer's requirements, our bespoke laser cutting service is on hand, ready to create custom-made washers specifically designed and manufactured to the customer's personal requirements.
With our bespoke service, you're guaranteed to find a solution that ticks all the boxes.