Brass Shim Washers Manufacturing Experts & Bespoke Brass Shim Washers Specialists
Call 0121 544 5808 Today
Various Gauges/Thicknesses
Brass shim or Brass CZ108 Shim rolled in a can or flat packed. Other Sizes Available – 0.3mm , 0.7mm , 0.9mm , 1.0mm or .001″ , .012″ , .028″ , .040″.
Please contact us for a quote.
BRASS Imperial & Metric x 6″ wide
Thickness
Packaging
Price / Can / Pack
0.002″/ 0.05mm
Can ( 1pc x 100" lg )
£27.36
0.003″ / 0.075mm
Can ( 1pc x 100" lg )
£28.49
0.004″ / 0.1mm
Can ( 1pc x 100" lg )
£30.97
0.005″ / 0.127mm
Can ( 1pc x 100" lg )
£33.31
0.006″ / 0.15mm
Can ( 1pc x 100" lg )
£34.80
0.008″ / 0.2mm
Can ( 1pc x 100" lg )
£41.28
0.010″ / 0.25mm
Can ( 1pc x 100" lg )
£46.08
0.015″ / 0.38mm
Flat Pack ( 10pcs x 10" lg )
£51.00
0.020″ /0.5.mm
Flat Pack ( 10pcs x 10" lg )
£62.80
0.025" / 0.6mm
Flat Pack ( 10pcs x 10" lg )
£78.18
Leading Brass Shim Manufacturer
Stephens Gaskets is a specialised shim, gasket and washer manufacturing company. We are dedicated to supplying mechanical solutions to a wide range of industries. Established way back in 1947, our company has only grown since then. We are proud to have established ourselves as one of the leading companies within this industry.
Our skilled and experienced engineers, combined with the latest state-of-the-art manufacturing tools and facilities, enable us to produce high-quality products. All at extremely competitive prices. For example, this includes our range of gaskets and brass shims. Many of our manufactured components can be supplied in a wide variety of materials, for example our brass shim.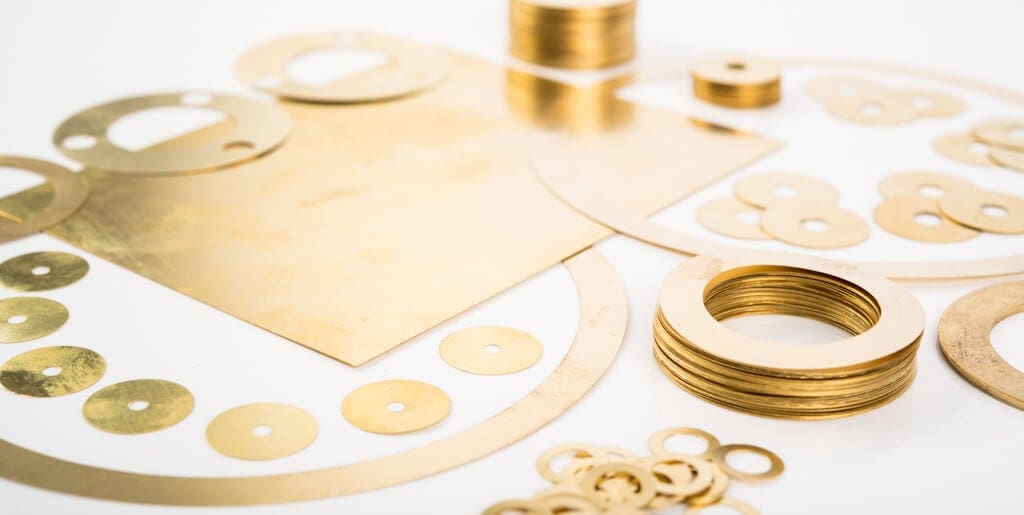 High Quality Guaranteed
At Stephen Gaskets, alongside all of our other products, we are extremely proud to be a leading manufacturer. We produce high quality shims for various different work-sectors. As a result, we offer a diverse range of products. So, why should you choose a pre-cut Brass Shim?
Wide Range of Sizes Available
As a material, brass is ideally suited to many of the jobs our products are used for. The brass shims are cut to a range of particular sizes, ensuring precision in both thickness and dimension. Consequently this saves you both time and effort when you're working.
By leaving the measuring and cutting of the brass shim to the professionals, you can rest assured that they will always be perfectly flat and undistorted. Therefore, they will perform exactly as they ought to. Due to the fact our manufacturing process operates at such a high standard, you know that every product we produce will be safe and secure.
Founded in 1947
Why should you chose Stephens Gaskets for your Brass Shim or Brass Foil? We have been manufacturing high quality shims, gaskets, and washers since we were founded in 1947. Therefore, we have a great deal of experience in providing excellent, fit-for-purpose products. All of which are ideal for a wide range of requirements.
Whatever your trade or industry, you can trust our broad range of products.
The range has expanded to include exhaust gaskets, cylinder head gaskets and Novus gaskets. As well as graphite gaskets and precision washers, among many more products. As a result they provide high quality solutions to your individual needs. We offer a fast turnaround on all our products, delivering to customers all around the world.
Call Us Today
All our products are available in a range of different thicknesses (see the table below for more details). In addition, they are also available in both flat packs or rolled in a can for convenience.
If you would like more information about our Brass Shims, or any of our other products, please do not hesitate to get in touch with one of our friendly, knowledgeable staff. We're always happy to help, no matter what your query or requirements may be.
Stephens Gaskets are specialists in the production of precision-machined components. We supply products both nationally and internationally. Therefore, we have the skills, knowledge and experience to create high quality products. All of which can be used in a wide variety of applications.
As a company, we remain determined to meet as many client requirements as we can. Therefore we aim to offer our components in an extensive range of materials, including the brass shim.
Our bespoke service is also on hand to create custom parts in small and large batches, fast and efficiently. Our products are made to the highest of standards using quality materials that are guaranteed not to let you down. Stephens Gaskets are experts in the manufacturing of shim washers.