Laser Cutting and Pressed Parts

Various Gauges/Thicknesses
Laser Cutting Experts
Here at Stephens Gaskets, we provide many different products, from washers to shims to gaskets. One of the things we're most proud to offer is our laser cutting in Birmingham service. We can provide prototypes, samples and laser cut components for a wide range of different productions. Whether you require them in small batches or volume runs. But how do you laser cut? What is a laser cutter? How does laser cutting work?
Bespoke Service
Our laser cutter is a brilliant service that we use in order to create bespoke shims or foil that are flawless and perfect for our clients' individual needs. As there are so many different types of shims, with a wide range of application requirements, it is essential that we can manufacture them in a bespoke fashion and to an extremely high standard.
Flawless Results
So how does it work? Basically, our process relies on lasers, which are highly accurate and powerful, in order to laser cut custom (and often complex) sheets of metal and polymer. Therefore, creating bespoke shims (foil) of the required size and thickness. The benefits of using a laser cutter in order to create shims/foil are wide ranging. For example, this way of precision laser cutting shims creates flawless results with no room for error.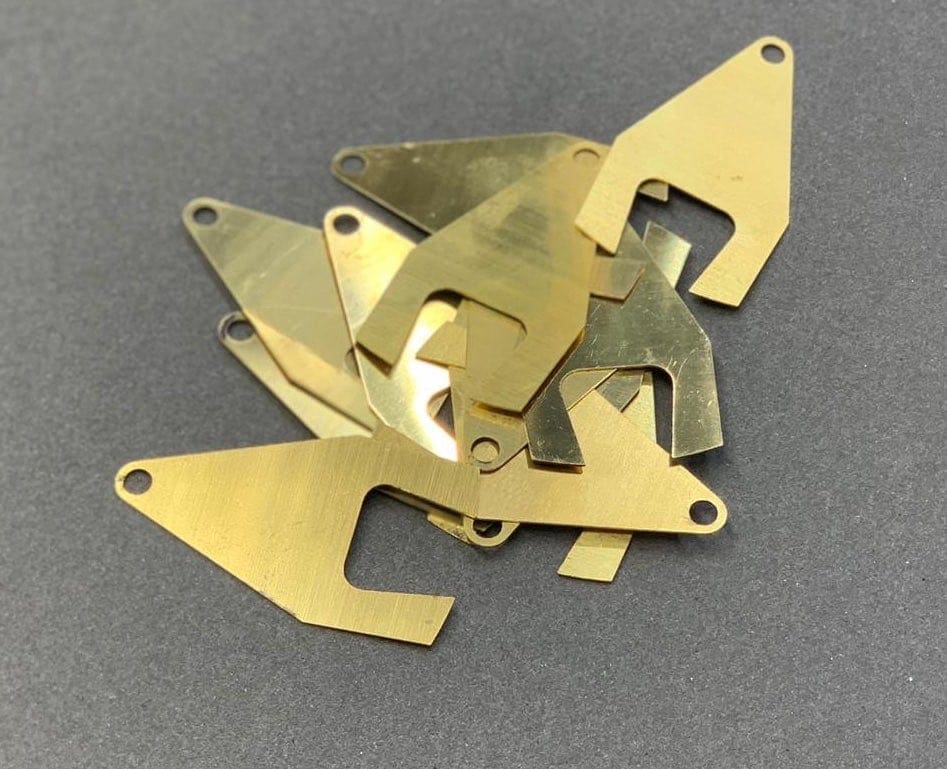 Quick & Affordable
Laser cutting is also quick and affordable, meaning that you don't have to shell out a fortune to get the right shims for you. This laser cutter method is incredibly advanced. We use state of the art equipment and software in order to get our perfect results. Using these advanced laser cutting methods, we can make sure that during metal cutting no material is wasted. This is the case for if we laser cut steel or laser cut aluminium, or any other metal. The number of shims (foil) that can be cut from each sheet is carefully calculated, keeping the cost low for everyone involved.
Why Choose Stephens Gaskets?
So, why should you trust Stephens Gaskets Limited with you need something laser cut? Established in 1947, we have many years of experience designing and manufacturing top quality parts that can be used in a wide range of industries. For example, from 1st and 2nd tier automotive suppliers, to diesel engine manufacturers and classic car and bike clubs. Our client base stretches all over the world, and our customers can benefit from our expert knowledge and fast turnaround times.
Precision Made Products
The range of products we offer is like our company, always growing. Our current products include gaskets, exhaust gaskets, graphite gaskets, laser cut steel shims, ring shims, precision washers, brass shims, plastic shims and many more. We are very proud of our method, and are extremely pleased that we can offer these precision made shims/foil of very high quality, at very reasonable prices.
Call Us Today
For more information on our laser cutting services as well as any of the products listed on this site, get in touch today. Our expert staff will be able to run through your requirements and suggest the product (as well as the material, size, thickness, and batch size) that will best suit your needs.
We offer a fast turnaround time and worldwide delivery, so contact us now to see how we can help you and your business.
Cutting steel with a laser is a highly accurate and powerful manufacturing technique that we use here, at Stephens Gaskets. By producing our mechanical components this way, we can create sleek, and flawless solutions that are great value for money. It is beneficial for small and large production batches and with great precision, we can ensure smooth consistency throughout each and every product. Our steel components are popular because of their strength and durability. We are proud to have the tools and skills to be able offer a wide range of shapes, sizes and thicknesses.
Here at Stephens Gaskets, we are proud of the services we can offer our customers, especially our bespoke services and laser cutting in the UK. Thanks to our process, up to date equipment and accomplished team, we can offer our client exactly what is they are looking for. Using highly powerful laser cutter machines and a team of skilled and experienced workers, we have the ability for laser cutting gaskets and shims from quality sourced materials. All at extremely competitive prices.
Stephens Gaskets is a leading manufacturer of bespoke precision machined components, serving industries nationwide. With over four decades of experience, knowledge and skill under our belts we are always expanding our company. This allows us to include more and more services which reach out to a wider range of industries and clients. Our precision laser cutter service is one we are particularly proud of. It produces components that serve a wide variety of applications – both commercial and industrial. Stephens Gaskets creates small and large scale batches of mechanical components fast and efficiently, to the highest standards – without breaking the bank.
We have a vast range of pre-cut shims, washers and gaskets here at Stephens Gaskets. However, we understand that sometimes our clients might need something more specific. In order provide mechanical solutions to as many different requirements as we can, we also have a bespoke service available too. Laser cutting is an advanced form of manufacturing that relies on highly powerful and accurate machines to create components. They have the ability to cut through a wide variation of sheet material to create quality, bespoke machined parts. All of which are guaranteed not to let you or your project down.
Stephens Gaskets are experts in the manufacturing of shim washers and laser cutting in the West Midlands and the rest of the UK.