Various Gauges/Thicknesses
Nitrile Washers
Nitrile Washers– Nitrile rubber is an extremely versatile material which has a number of uses, not only restricted to washers and gaskets. It is perhaps most commonly used in rubber gloves as a non-allergenic alternative to latex. It's also used in hoses, cable jackets and transmission belts in cars.
High Resistance Levels
Nitrile washers offer unique levels of resistance, making it a common material used in the food catering industries, able to be manufactured to very thin gauges whilst still maintaining all of its impressive properties. Nitrile is ideal for use with fats, fuels and oils and is even resistant to water, acid and gas. Whereas other materials might corrode or degrade, nitrile will keep soldiering on.
Suitable For a Wide Range of Temperatures
The temperature resistant properties of nitrile washers are also pretty impressive. The material is suitable for use at temperatures ranging between -40 degrees celsius and +120 degrees celsius depending on the grade of nitrile washers used. For this reason, nitrile is often used in aeronautical applications as well as footwear, sponges, expanding foams and even floor mats.
Good Oxidation Resistance
Nitrile rubber compounds have excellent resistance to oils, fuels and grease and are therefore ideal for use in applications with fuel and oil, as well as being very commonly use in the automotive industry. With good oxidation resistance as well as excellent resistance to a number of solvents, it's easy to see why nitrile is the material of choice for many applications not only in the United Kingdom, but across the world.
Nitrile Washers at Stephens Gaskets
At Stephens Gaskets, we are able to manufacture washers to suit any size, shape or configuration you require, which means that we are always able to provide the ideal type of washer or gasket for any particular use or requirement. We've been established since 1947, which gives us an unrivaled level of experience and understanding of our customers' requirements.
Contact Us Today
The quality of our nitrile washers is always of the highest standard, which, when coupled with our unbeatable pride in our customer service, makes us the ideal choice for supplying your nitrile washers. Call us to discuss your requirements today or fill in our contact form, as we would be delighted to help you find the ideal material for your specific application or need.
Features:
Quality UK manufacturing
Midlands family owned business
Made to any size and shape
Same day shipping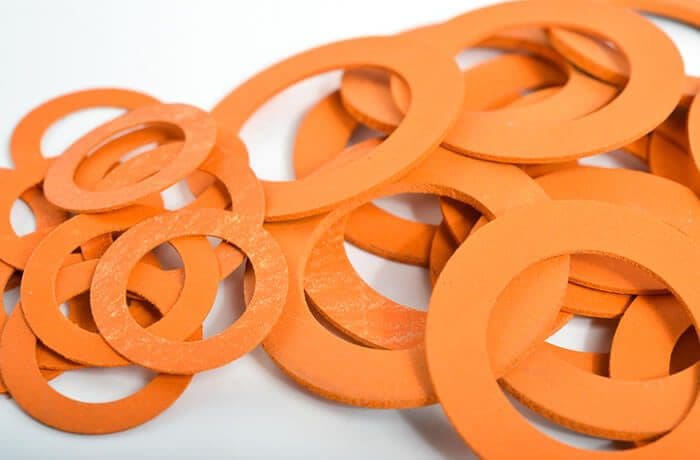 Nitrile Washers are an incredibly popular type of washer that we can supply here at Stephens Gaskets. Based in the Midlands but serving worldwide, we have spent over four decades establishing a highly in-depth knowledge and understanding of precision machined components – leading us to be able to create high quality solutions for a wide range of industries and applications.
They are made from an extremely versatile rubber material that is used for many different products such as hoses, rubber gloves, cable jackets and transmission belts. The material offers unique levels of resistance which is why it is also used by us here at Stephens Gaskets to manufacture washers with. Nitrile rubber washers are commonly used in food catering industries, and is ideal to work in environments where fats, fuels, and oils are present. The component is also resistant to water, acid and gas – elements that can cause other materials to corrode or degrade.
The high levels of temperature resistance which these washers have also make the components suitable for aeronautical applications; the washers can withstand temperatures ranging between – 40 degrees Celsius and +120 degrees Celsius. With excellent oxidisation resistance too, they are also widely used in the automotive industry.
Here at Stephens Gaskets, our nitrile washers are available to purchase in an extensive variety of sizes, thicknesses and dimensions – to ensure there's plenty of choice for finding the best fitting component for the job. We also have a bespoke service to create more specific measurements too.